Our GlobeIn Premium Wrap
Hand wrapped with love, each gift comes with its own regional pattern, giving your gifts an international flair.
Premium gift wrap – $5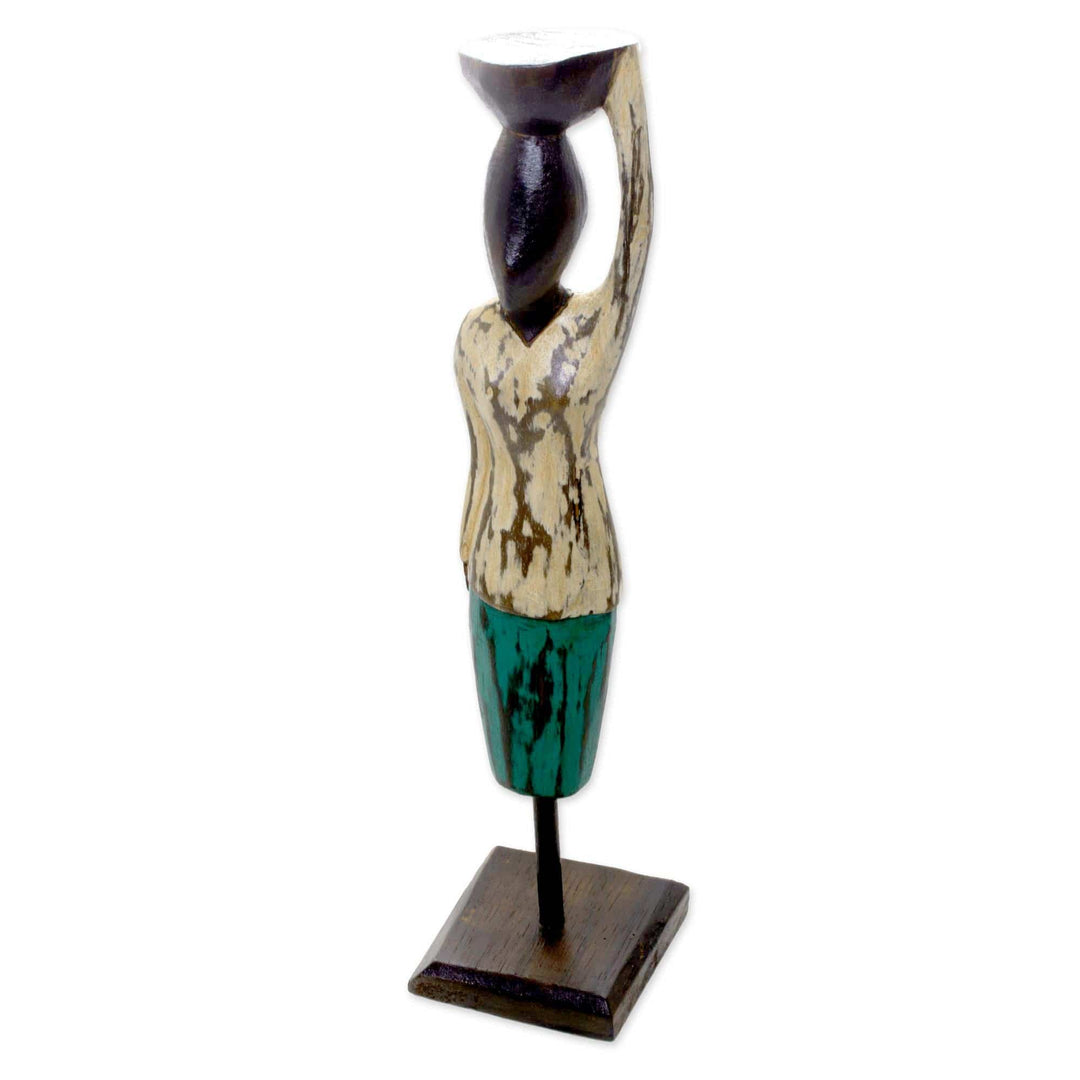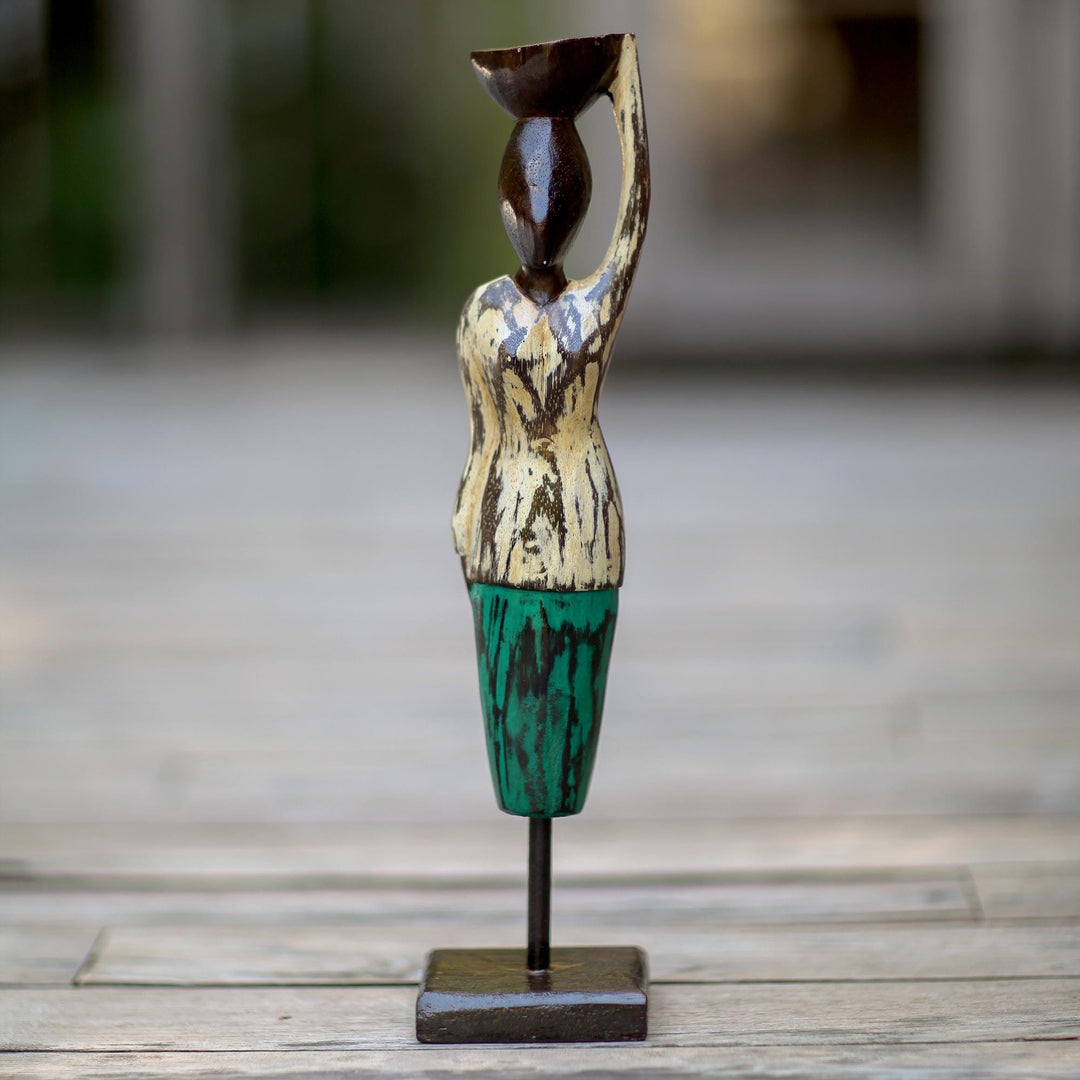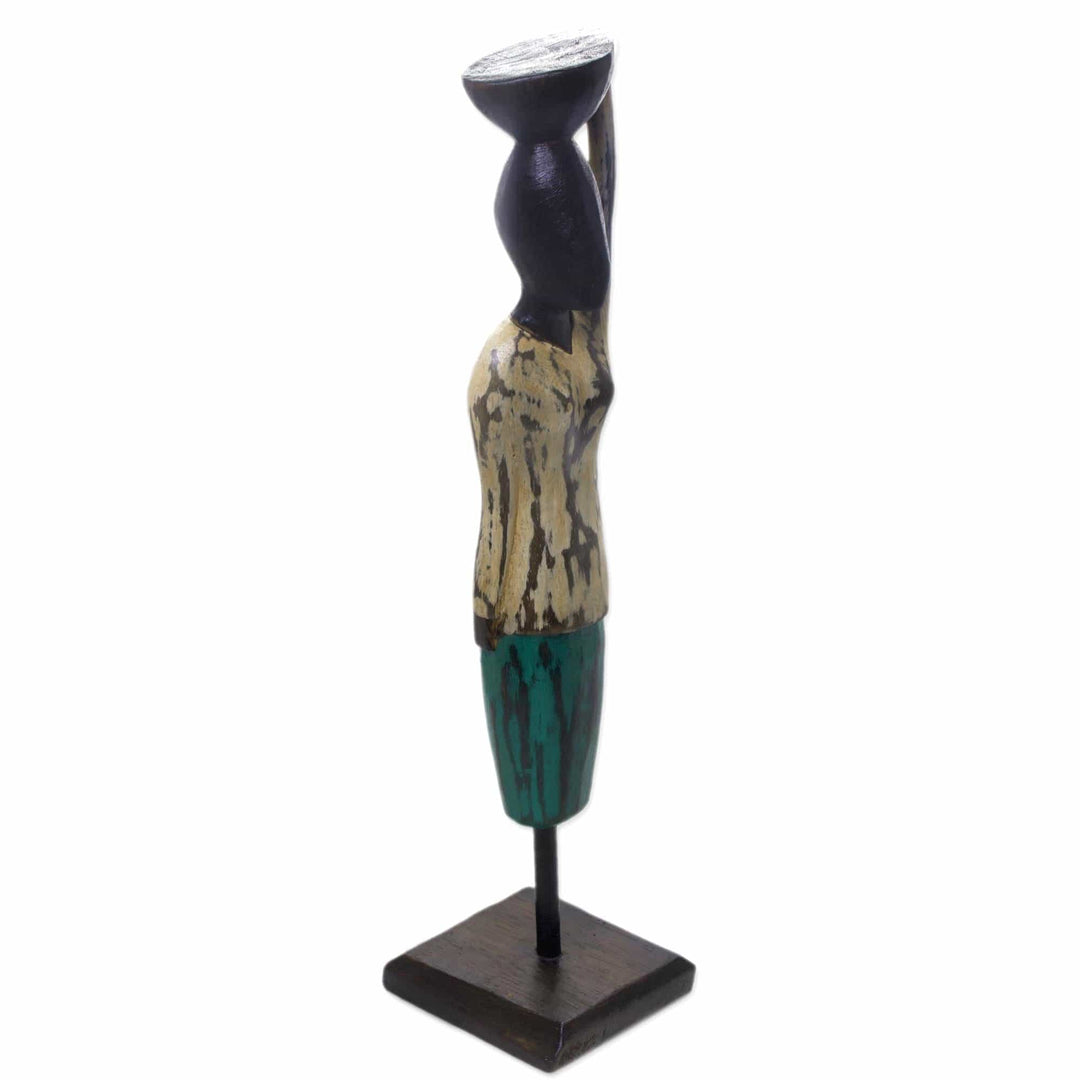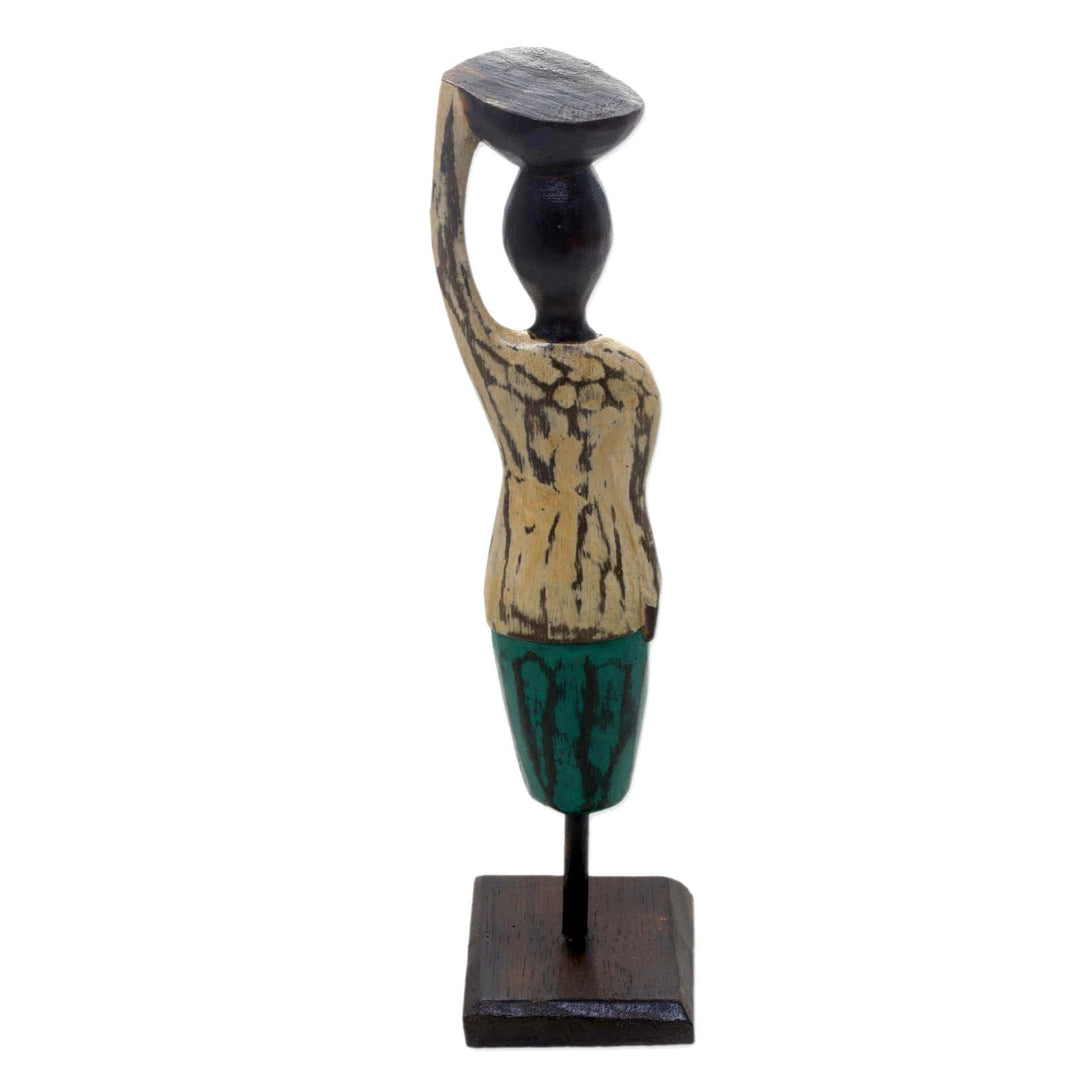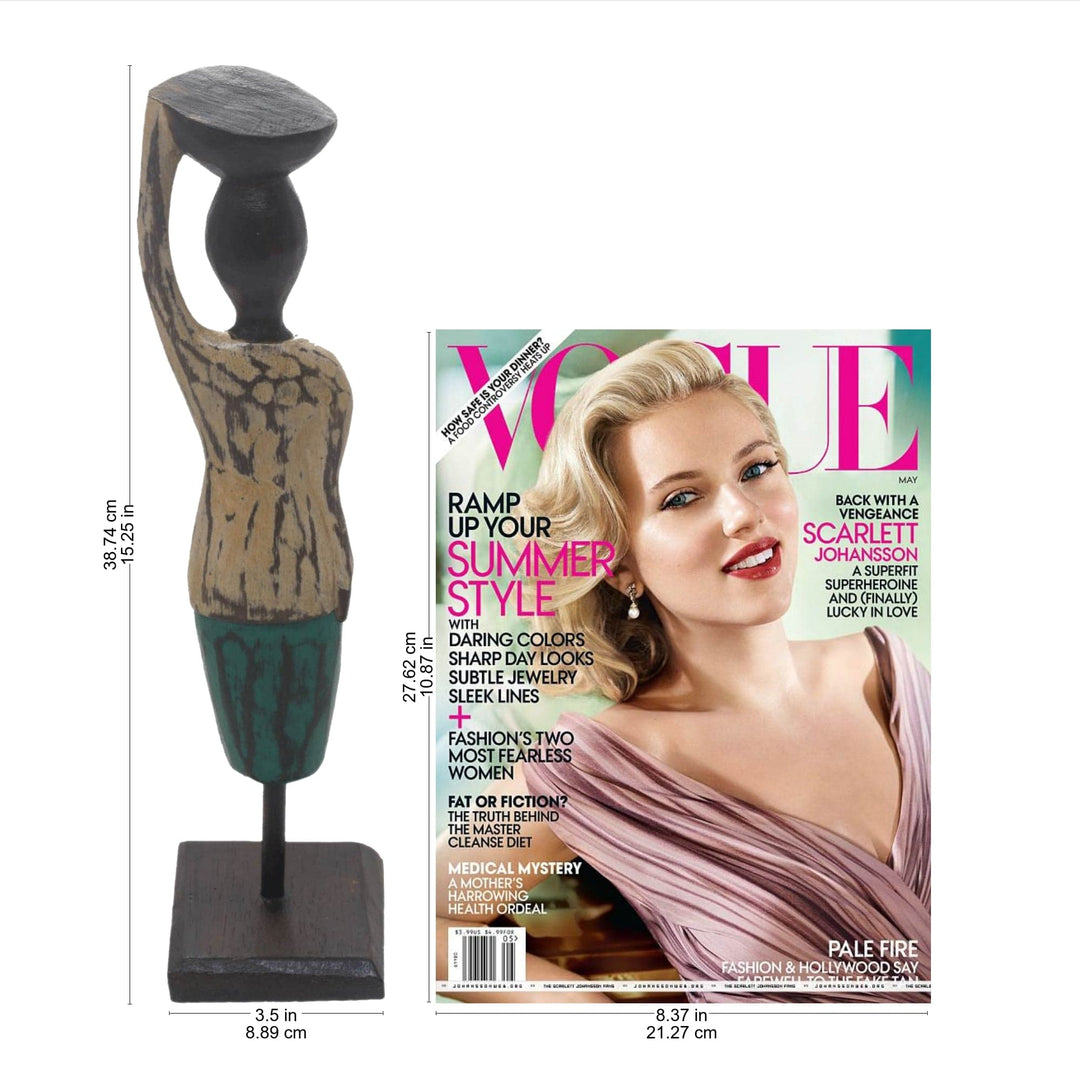 Hand Carved Albesia Wood Abstract Woman Statuette from Bali - Bali Endeavor
$43.00
$0.00
Available Premium Gift Wrap
You can optionally add Premium Gift Wrap into cart.
Learn more >
Overview
Description
From Made Pastika comes this wonderful abstract statuette. Hand carved from albesia wood, a woman carries a bowl on her head while wearing a traditional Balinese cream and green dress. The artisan finishes the attractive design with a rustic finish which adds to the vintage appeal of the statuette.
Albesia wood
0.21 lbs
15.3 inches H x 3.5 inches W x 3.5 inches D
THE STORY BEHIND THE PRODUCT
Artisan Organization: Made Resi Pastika
Country: Bali and Java
Update (December, 2020)

Long-time NOVICA wood sculptor Made Pastika recently passed away after a short illness. His wife, Ni Made Resi, intends to carry on his artistic legacy.

"My name is Ni Made Resi, and I was born in 1969 in Gianyar. I learned about wood sculpture since I was little; my parents are wood carvers, so I was familiar with wood sculpture.

"My hometown is Tegalalang, and still today the air is still fresh and the weather is still cold. And I love that situation; it is an ideal circumstance to raise children and grandchildren. I already have grandchildren from my family. And they are all very loving; they keep me busy since my husband passed away. He was not very sick near his death, so I never thought that he would leave me so soon. As a father and a husband, he was a really loving and caring figure for me and my children. And because of his love, I rarely had to work hard. He always took care of me and my family. That is why I really felt lost when he was gone.

"As a couple who knew about wood and wood sculpture, we opened an art shop together. He worked hard to provide for his family, and I supported him all the way. Now, since he is gone, I don't want to lose his legacy as well. So I think I will carry on what he started with NOVICA. After a period of heartbreak and sadness, I will get up and carry on my husband's legacy. I will use the name of 'Made Resi Pastika'. With the help of NOVICA, I can continue his product line and also present my own designs. I hope you will still love our products. Your support matters to me and my family. To keep me busy after losing my husband, and also to continue what he really loved. Thank you."

Original Story

"I was born in a village in Gianyar famous for its legendary wood carving tradition. Practically the entire population is a sculptor who sells nationally and abroad. Unfortunately I couldn't be part of my village's carving tradition because my family was very poor. I am the sixth of seven siblings and it was difficult to provide for us. I had to work as a domestic servant from a very young age. Whereas other kids got to play and go to school, I had to get up early and work late into the night. My sole dream was to be a sculptor.

"During the time I worked as a servant, I often observed how others made a sculpture and achieve a good finish. With the economic crisis of 1991 I was dismissed so I started to carve. I pawned my wife's gold and with the money I was able to get started on my own. I used albesia wood instead of suar wood, ebony, sandal wood since I couldn't afford them.

"I never had someone to teach me how to sculpt, I had to learn by myself. I looked for business opportunities by checking out what was already on offer and what wasn't and this is what helps me survive as an artist. I improved in a variety of techniques and finishing processes.

"I believe I can compete with other craftsmen. This belief is so strong and I am supported by my beloved wife. With a strong will and our prayers, God finally gave us a way and our business began to grow. From just renting a small place, then buying the land and now we have our own workshop although it's not too large.

"My inspiration to cultivate this field comes from meeting a person selling sculptures. I bought one and then I started to think of the ways I could develop it into something newer and better.

"What I like best about this art is the coloring process, while the most challenging thing is the finishing process so that the sculpture looks more beautiful and natural.

"Friends around me often refer to me as an honest and hardworking man who loves his family. I am a loving father to three children, and two of them help continue the efforts that I have pioneered, while my youngest daughter is still at the college. I am happy to see that my children do not have to experience the same economic problems I encountered. Their lives are better, full of smiles.

"When my wife gave birth to our first child, I was so excited that I hurried to bury the umbilical cord at home, as per our tradition. Once back in the house, my parent asked the sex of the new baby born, but I replied 'I don't know!' I was so happy I forgot to ask the sex of my new baby! Whenever I remember this story, I smile -- how silly." "