Our GlobeIn Premium Wrap
Hand wrapped with love, each gift comes with its own regional pattern, giving your gifts an international flair.
Premium gift wrap – $5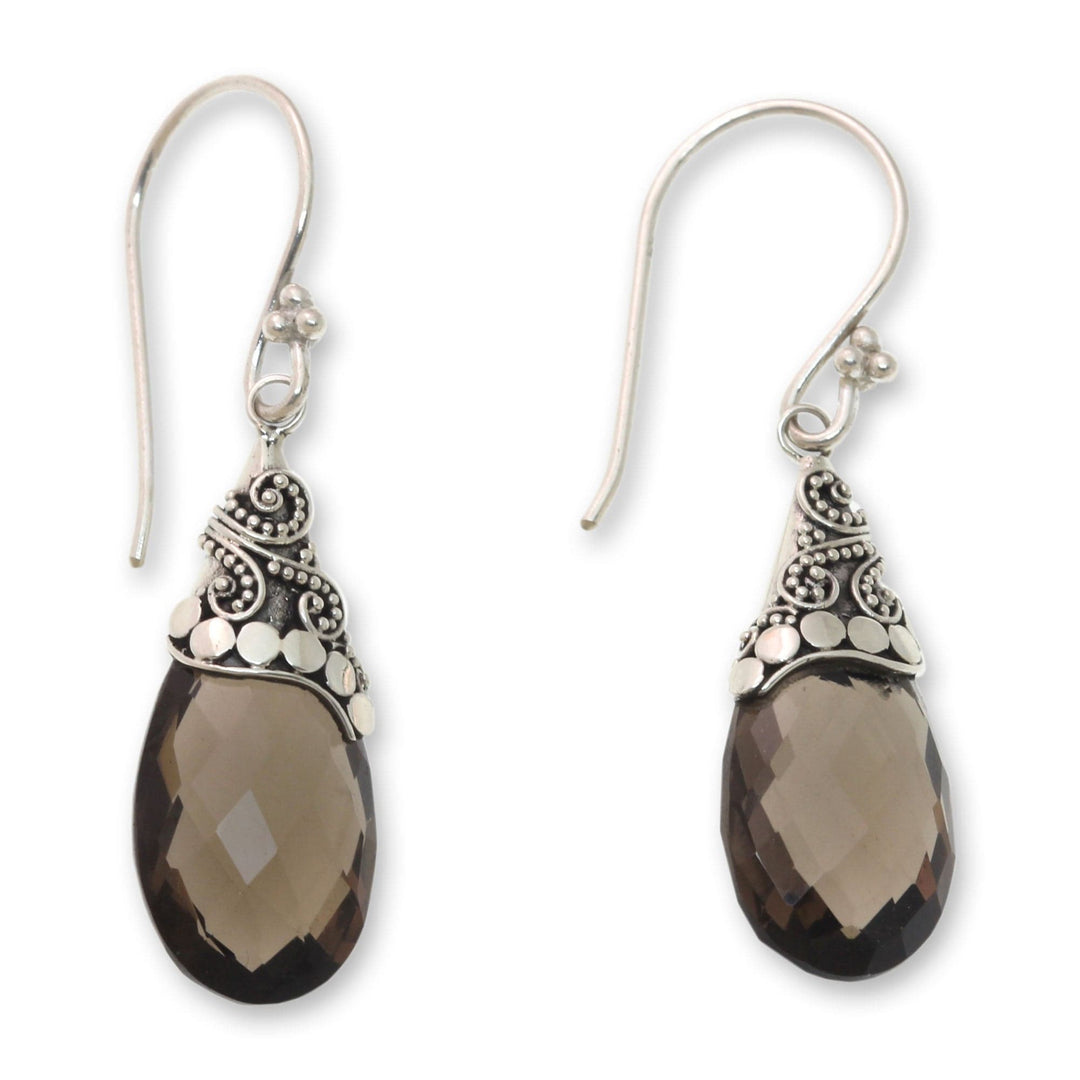 Smoky Quartz and Sterling Silver Dangle Earrings - Glamorous
$65.00
Guest price
$52.00
Member price
Available Premium Gift Wrap
You can optionally add Premium Gift Wrap into cart.
Learn more >
Overview
Description
Traditional Balinese artistry adds glamour to these smoky quartz dangle earrings from Dewi Putera. The earrings are crafted from sterling silver with intricate dot and swirl motifs, and 11 carats of faceted smoky quartz complete the design.

.925 Sterling silver
Sterling silver, smoky quartz
0.06 oz
1.5 inches L x 0.4 inches W x 0.3 inches D
THE STORY BEHIND THE PRODUCT
Artisan Organization: Dewi Putera
Country: Bali and Java
"I love Bali, our culture and customs are unique and diverse. Crafting traditional Balinese silver jewelry cannot be done with machines — it would never be as good as our handmade jewelry. That means that every piece we make is unique, since everything is done by hand and there will always be slight differences, though the design remains the same.

"Though my name is Putu Lesari Dewi, I am known by my married name, Dewi Putera. I was born in Gianyar and I come from a family of artists. My dad paints as a personal hobby. He has a large collection at home and I must have inherited his talent and interest in art. I am especially interested Balinese artists, I feel proud to see their creations. I wish I could be an artist like them, be that creative so people would enjoy my work.

"My husband and I have three daughters. Having children changed my life, because now my time belongs to them. No matter how busy I am, they are the most important in my life. I love drawing and painting and, after meeting my husband for the first time, I kept thinking of him. I even made sketches of his face since he was always on my mind. Today, I channel my talent into designing jewelry. My friends see me as a person who is always giving a hand, but I hang out less with them than I used to.

"I'm a self-taught artist — I learned all I could from reading books. With imagination comes inspiration. I just start designing — it doesn't require much equipment, just paper and pencil. Then I explain my design to the silversmiths I work with and they craft the piece with manual tools. I use silver as a material and also gems. I like to use unique and uncommon gems because they look different. However, sometimes it can be hard to find unique gems.

"Our mission when we started this venture is to promote Balinese culture as well as artisans living in harsh circumstances. And yet, their work is worn everywhere in the world. We did not have a lot of capital to support our mission but we never gave up, as we believed wholeheartedly we would succeed.

"Eventually we found ourselves in a position to be able to offer jobs to about 20 Balinese silversmiths. We have been working together for decades now. They craft the jewelry that I design. Ninety percent of our work is handmade and we are very proud of it.

"A phrase that is always in my heart and mind is 'and all of these will have passed.' I have really learned from this, especially when I'm feeling sad and I remember it, and I believe it will pass in the end. And I also remember it when I'm feeling very happy, and I am grateful for life. Being happy and sad is normal, and will soon pass.

"By working with you, we hope our silversmiths can have more work and we look forward to better promotion for our jewelry.""