Our GlobeIn Premium Wrap
Hand wrapped with love, each gift comes with its own regional pattern, giving your gifts an international flair.
Premium gift wrap – $5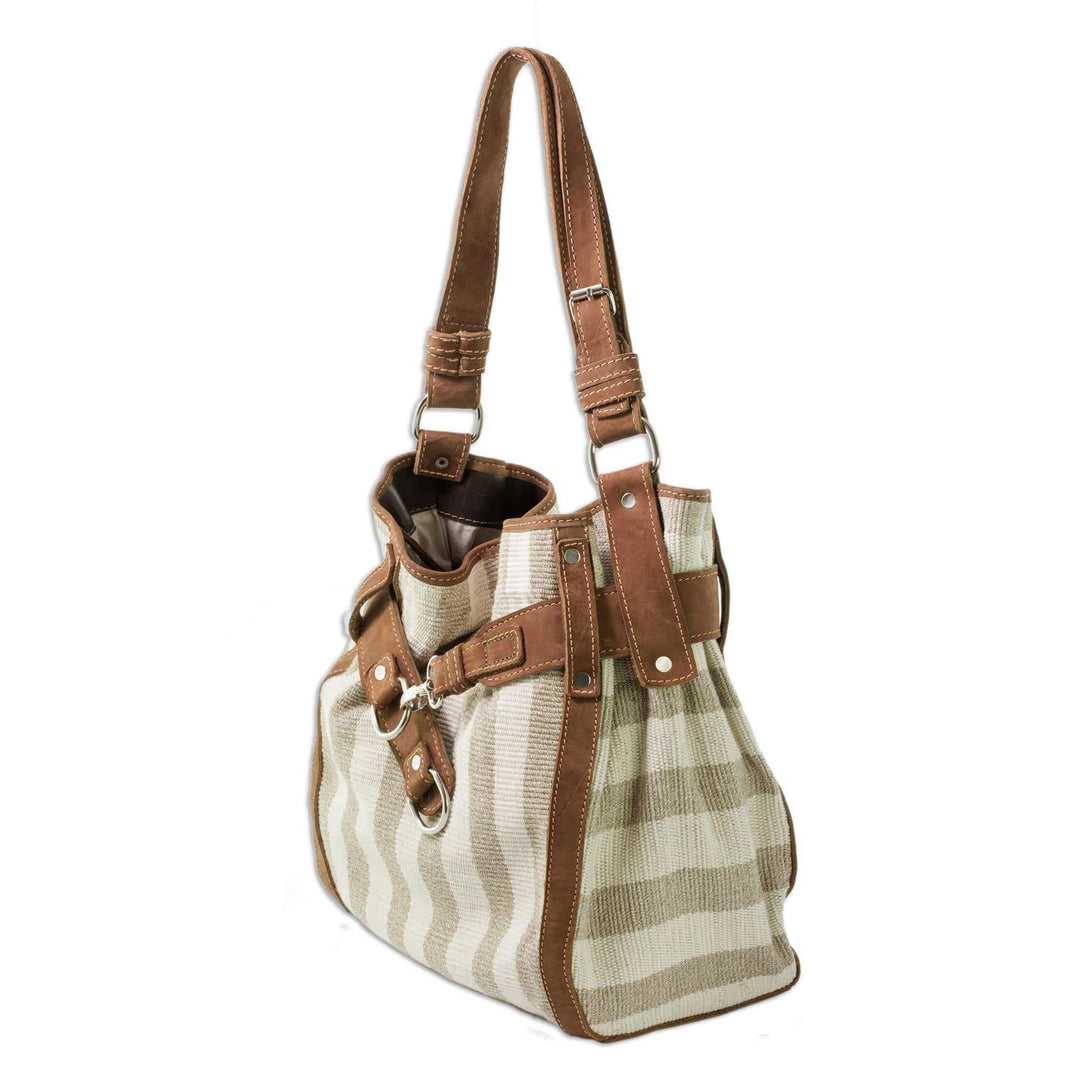 Central American Cotton Shoulder Bag - Natures Lines
$171.00
Guest price
$136.80
Member price
Available Premium Gift Wrap
You can optionally add Premium Gift Wrap into cart.
Learn more >
Overview
Description
The Villavicencio family of Guatemala cultivates the only remaining cotton farm in the country, where they focus on quality from seed to finished product. The brown- and ivory-hued cotton in this roomy bag isn't dyed - they're natural variations of the raw cotton. An adjustable belt gives it shape, and three interior pockets, including a zip pocket that runs the length of the bag, keep you organized on day trips and every day. Cotton with leather and brass trim.

The Villavicencio family cultivates cotton in several natural colors – jade, brown and ivory, or raw cotton. In fact, people are surprised to learn that no dyes are used. The family is involved in the entire process, from growing the cotton, to weaving it and transforming it into this handbag.
100% cotton, leather and brass. Cotton lining
0.67 lbs
Bag: 11.8 inches H x 11.8 inches W x 5 inches D
Strap(s): 27.5 inches min L - x 55 inches max L x 1.2 inches W
Drop length: 13.8 inches min L - x 27.5 inches max L
THE STORY BEHIND THE PRODUCT
Artisan Organization: Luisa Villavicencio
Country: Guatemala
"Nature gives the color and we give it shape….

"I'm a Guatemalan woman, born into a family where respect for the environment and for our country's culture have always been a part of our daily life. The story of why I'm here and do what I do is really the story of my whole family, beginning with my parents.

"My father was always passionate about growing cotton. No matter how small the harvest, no matter how bad the weather, he never wanted to raise coffee or corn or anything else. He was an agronomy engineer and was enthusiastic about cotton and with preserving the cultivation of a crop that originated with the Maya culture.

"Cotton used to be abundant in Guatemala but it's been slowly disappearing over the years. Today, our 17 acres of cotton fields are the only ones left in the country. We are the only cotton farm in Guatemala.

"All our creations are 100% ecological, 100% natural undyed cotton that reveals the natural shades of the fiber. People are surprised to learn that we use no dying process at all, but it's true. What's more, the color becomes more intense when the garment is washed.

"We work with only three pure colors. Apart from the crude cotton color everyone is familiar with, we also use a seed known as ixcaco in the Maya language. It originated in the mountains with the ancient Maya civilization and produces brown cotton. We call our third color jade. My father and brother researched a way to obtain it by modifying the brown cotton seed and they were able to!

"Some time ago, we began working with a company that recycles denim scraps and remnants on a large scale. Their process is free of chemicals and dyes and saves more than 5,000 gallons of water. This fiber is 100% natural and is biodegradable. Because we have a strong commitment to social responsibility and to the environment, we wanted to adapt this fabric to our apparel, using materials with an endless cycle of life.

"All our crop is destined for our own designs except for a small portion that we donate to the Ixchel Museum in Guatemala City. This museum works to preserve Guatemala's native textiles and clothing, a cause we strongly identify with. Also, my mother collaborated with this museum for many, many years because she had the soul of an artist and loved our country's textiles. She helped the weavers and it was there that she learned to work with them and teach them quality, design, etc. The teaching went both ways, as she'd tell me how much she learned from the artisans.

"In 1995, my father and brother founded our fashion workshop. Once they had achieved the colors and could manage their cultivation, they began thinking about the final product they could create with our cotton. They contacted artisans who gave them ideas, created samples, and the first designs were sweaters. They opened the retail shop we have today.

"Despite my mother's knowledge of weaving and textiles, she didn't want to become involved in my father's project. But he became ill in 2001 and so my mother decided to lend a hand with the work. We owe her our quality, our image and the design of our Maya cottons.

"My parents began this project and dedicated their entire lives to the work. There were no Sundays or holidays for them.

"I lost both my parents in a period of only two years. After my mother died, I decided to help my father with his work. He passed away just one year later. Those were very difficult times but I'm happy I can carry on their work.

"There are 80 artisans working with us. Some are civil war widows, others always felt that they couldn't do anything and we've been able to change that negative self image. Some of them work on a traditional loom, others in small family workshops… and of course others help cultivate the cotton.

"We couldn't leave all these people without jobs. A lot of families depend on us. I feel I have a great duty to them, to my parents and to my country, whose textile tradition should not be lost. And I'm happy to have a goal like this in my life.

"Today, I am the designer and we have a lot more items in our clothing collection because that's what I enjoy doing. My inspiration comes from the love my parents instilled in me for preserving our Guatemalan culture. Today, my greatest challenge is to keep my parents' story alive and expand our horizons.""