Our GlobeIn Premium Wrap
Hand wrapped with love, each gift comes with its own regional pattern, giving your gifts an international flair.
Premium gift wrap – $5
Recycled Textured Cosmetic Bag - White & Black
$23.75
Guest price
$19.00
Member price
Overview
Description
Both striking and ecologically-responsible, this cosmetic tote combines classic white and black. Guatemalan artisan Claudia Hernandez weaves it by hand with recycled cords and lines the compact bag in white cotton.
Recycled vinyl cord, cotton lining
0.12 lbs
4.7 inches H x 8.8 inches W x 1 inches D
THE STORY BEHIND THE PRODUCT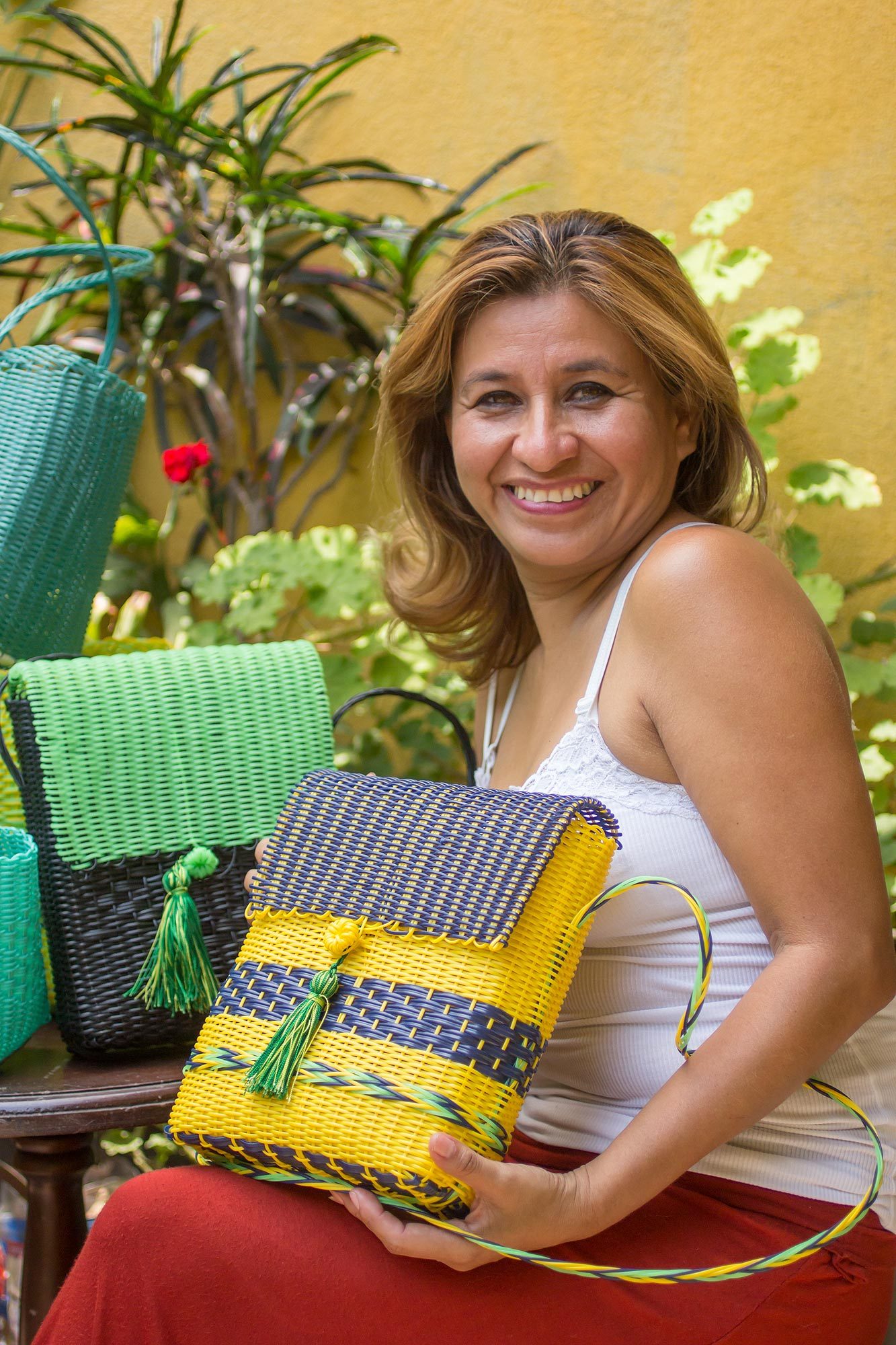 Artisan Organization: Claudia Hernandez
Country: Guatemala
"I weave handbags and baskets of recycled plastic.

"I was a Spanish teacher for most of my life but, when I lost both my husband and my father, I decided to learn a career to better provide for my family. This was a tough time, especially for my children, and I became the main breadwinner for the family.

"For three months, I attended a school near Antigua where the tuition was inexpensive and we could learn a craft. I decided to take this course because it's an old weaving technique. Unfortunately, in Guatemala today, people prefer trendy imported accessories.

"People consider me attentive and helpful but, above all, I just want to serve God. I know that each day is a challenge and brings something new. Thanks to this, I've learned to be positive in every aspect of my life. I also learned not to complain because everything happens for a reason and each situation teaches us a lesson.

"I'm a happy person with a fulfilling life. My hands can create wonderful things that people can use every day. What could be better than something crafted in Guatemala with much love and dedication, inspired by the wonderful colors of our landscapes?

"I thank God because, despite my setbacks, I'm fortunate to have two wonderful sons who help me with my work. My dream is to give them everything they need while also giving them the necessary tools to face every circumstance life puts in their path. I want to leave two well-educated men who love their country and respect our traditions.""