Our GlobeIn Premium Wrap
Hand wrapped with love, each gift comes with its own regional pattern, giving your gifts an international flair.
Premium gift wrap – $5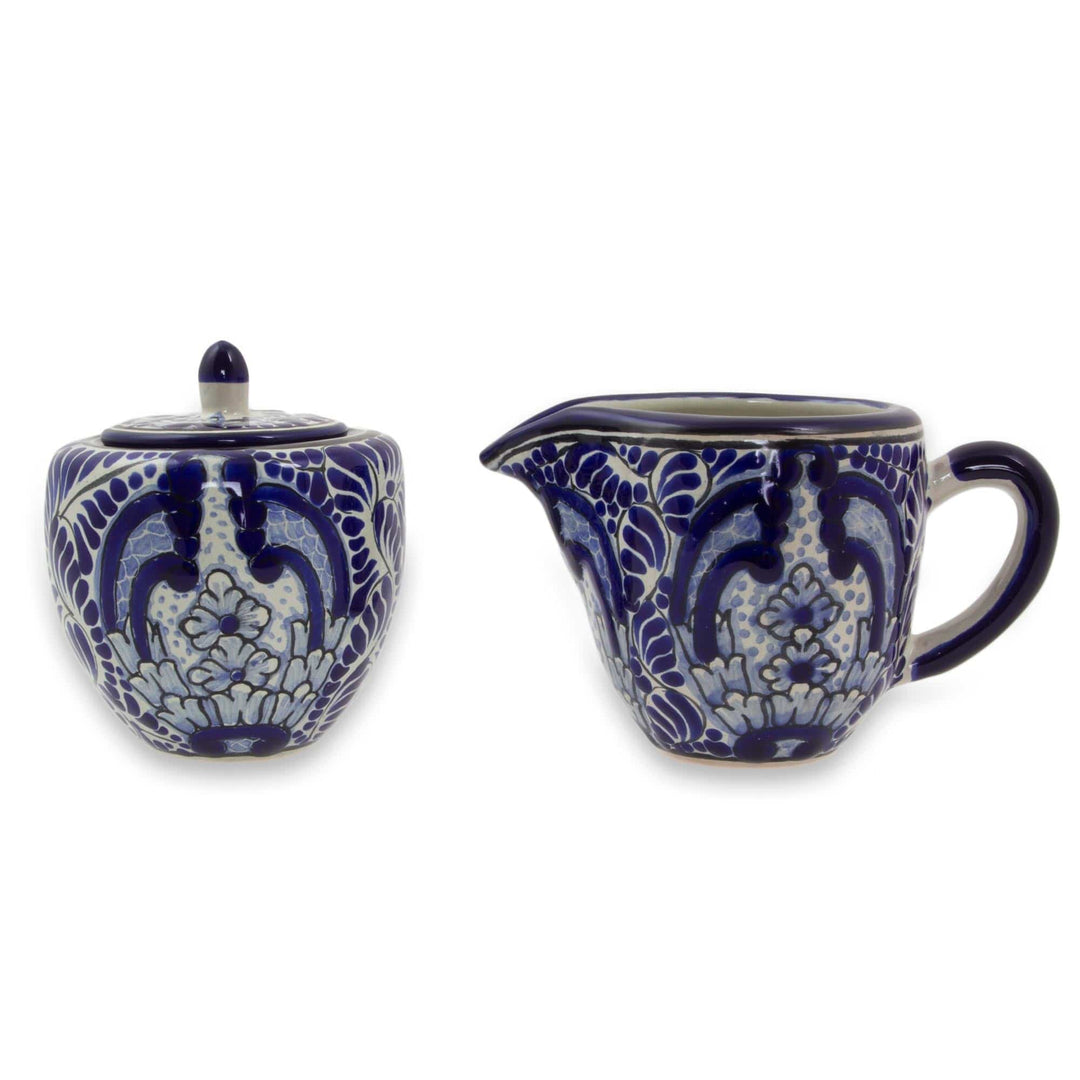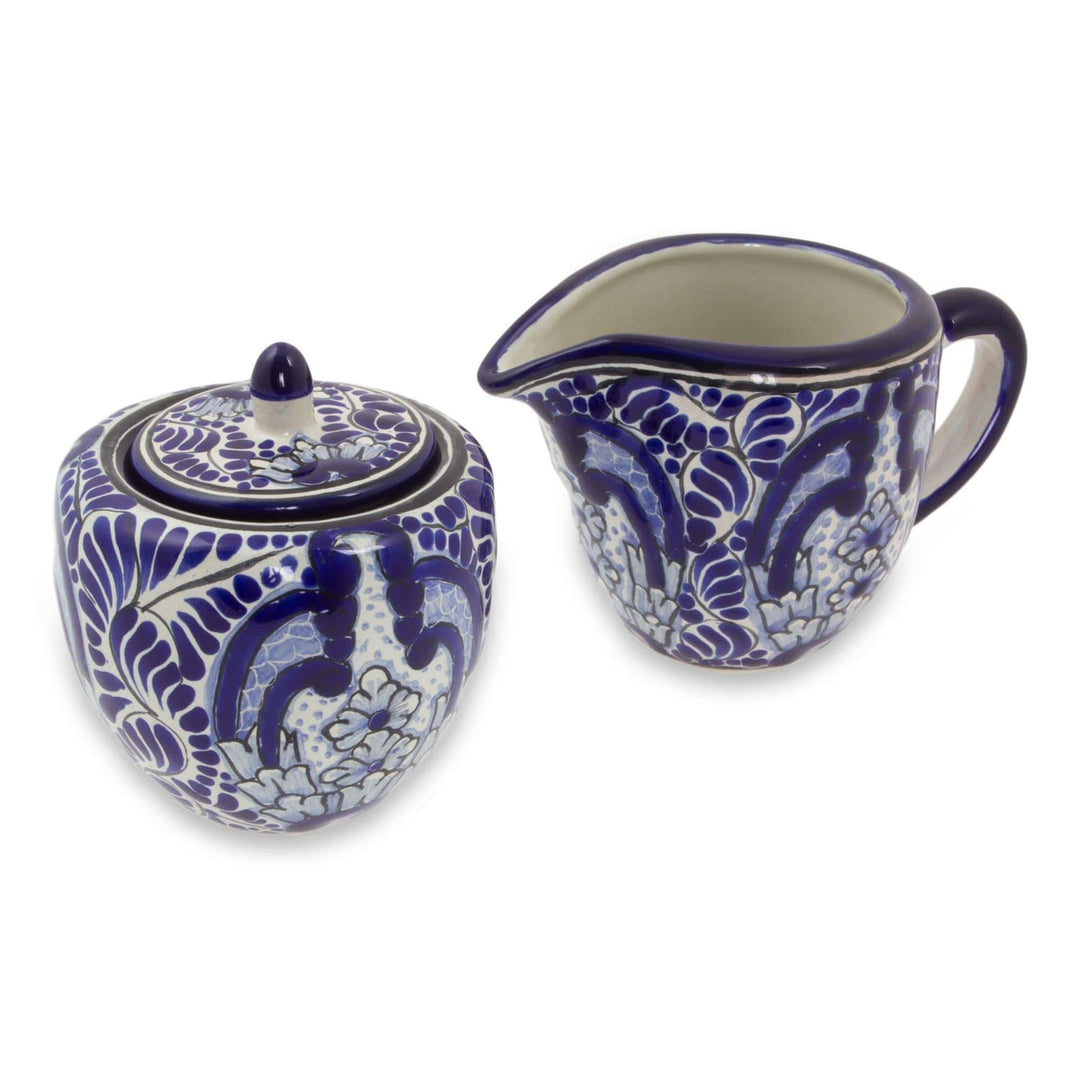 Artisan Crafted Blue Ceramic Sugar and Creamer - Puebla Kaleidoscope
$84.00
Guest price
$67.20
Member price
Overview
Description
A flower blossoms with scintillating beauty, spreading its petals throughout the ivory background of this sugar and creamer set. Like a kaleidoscope in blue undertones, the magnificent design is by Pedro Tecayehuatl, expert in the legendary art of Talavera-style ceramics from Puebla. Featuring black contours, the cobalt blue sugar and creamer are crafted by hand.

Talavera is a distinctive art form brought to Mexico by artisans from Talavera de la Reina, Spain. The ceramic artisans of Puebla, Mexico then incorporated Chinese designs, thus creating the blue and oyster-white patterns traditionally associated with Talavera Poblana. Today there are also more 'contemporary' designs that include yellow, green, orange, mauve, black and red.

National and international conventions require that a rigorous procedure be followed in the elaboration of authentic Talavera-style ceramics. Each individual piece will be slightly different, and therefore a unique work of art.
Ceramic
0.48 lbs
Creamer: 3.5 inches H x 5.5 inches W x 3.3 inches D
8 oz.
Sugar bowl: 4.5 inches H x 3.5 inches Diam.
10 oz.
THE STORY BEHIND THE PRODUCT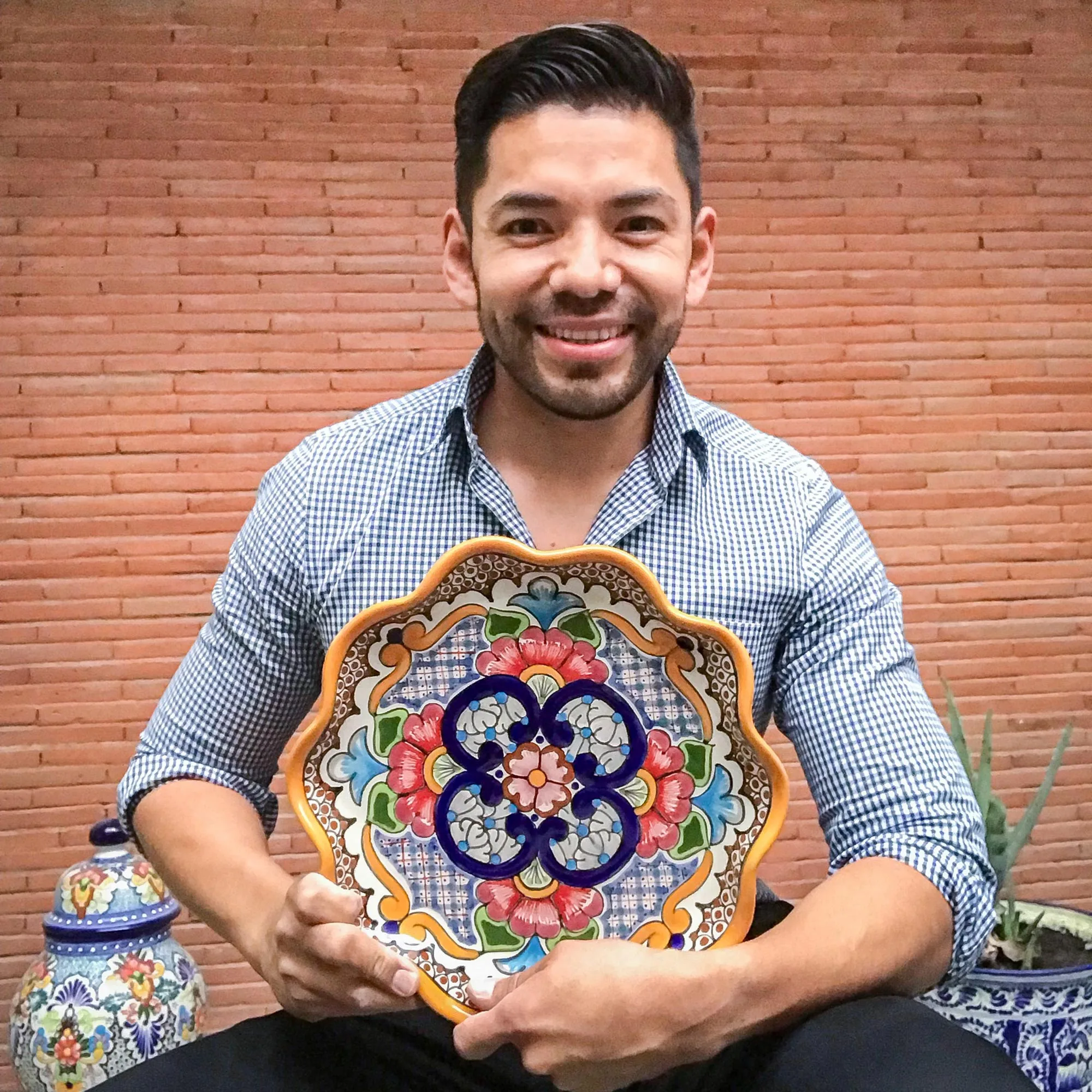 Artisan Organization: Pedro Tecayehuatl
Country: Central America
Latest Update

"I belong to the sixth generation of my family dedicated to the preservation of the plumeado or 'feathering' ceramic technique. This consists of creating textures in glazes with a feather. We are now able to give work to more than 20 women and men who assist us in different areas. We try to be conscious about sharing and transmitting to our artisans the value of preserving this beautiful tradition that is made in various regions of Puebla. We have continued changing with the preferences of our market, remaining avant-garde while also conserving the original technique.

"I dare say, my family has worked in ceramics for about 100 years. When you first came to Puebla, your plan seemed to us an excellent way to showcase our work at the worldwide level with the best efficiency possible. We offer shoppers a quality guarantee, and we promise that the piece you purchase will arrive in good condition.

"One of the most difficult challenges was adapting ourselves to the quality requirements. We have become stricter with ourselves and we have perfected our process even more. We haven't yet participated in exhibits or competitions but, the first time that we do, I know we will win first place. We are focused on creating useful ceramic designs for you.

"We continue innovating techniques. We have generated new designs with new patterns that preserve the traditional decorations that we love so much. We are very grateful to all of you. We have found a path to preserve our family tradition through your preferences. Thank you."

Original Artisan Story

"I was 15 years old when I started my own workshop, thanks to my father's sage advice. He taught me everything there is to know about this craft, for he comes from a family of ceramists. I was a little boy when I started following dad around his workshop, getting familiar with everything in it, and learning the processes — from kneading the clay, to decorating the ceramic designs and packing them for shipment.

"Staying focused on my dream proved to be a challenge. I had to learn how to split my time between learning my craft and being a responsible student. While my friends had fun or simply rested, I was always working.

"Little by little, I learned the techniques and honed my skills under my family's watchful eye and enthusiasm. From my dad, I learned about dedication and responsibility to my work, and from my mom, I learned about perseverance, discipline and saving. From my dearest Aunt Lupe, I learned about the love with which one must craft each single piece, and about being consistent with everything I undertake.

"I love the folklore in each piece as well as working with the materials. We strive to maintain tradition and the high quality of our work. We use clay only from the state of Puebla and lead-free glazes, which are tested to ensure our ceramics are safe.

"One must have an in-depth knowledge of the techniques and the processes — they require control and discipline. All the preparation is done and supervised at the workshop. We're not only concerned with maintaining our high quality but also with preserving an enthusiastic and agreeable working environment. The way we work differs from that of other traditional ceramics workshops in Puebla, and I think that makes a difference.

"At first, it was difficult showing my work and getting shoppers to trust me but, with the passing of time and my experiences, I started earning their trust and recognition. I have learned from my mistakes and now I have the opportunity to let my imagination run wild, preserve the family tradition, and transcend in some way.

"It's exciting when people admire our work and, when they purchase one of our signed ceramic designs, I fantasize about what kind of destiny it will have. I imagine that maybe 100 years will pass and someday, someone will find one of my signed pieces and people will learn my name.

"This is what motivates me to continue forward, regardless of the fact that you hear in this line of work is how artisans are finding it difficult to stay afloat and believe we have no future. I've made up my mind to continue being enthusiastic, believe in my ability to ensure my own future, bet on innovation, and always keep in mind there's a whole world to be conquered.""