Our GlobeIn Premium Wrap
Hand wrapped with love, each gift comes with its own regional pattern, giving your gifts an international flair.
Premium gift wrap – $5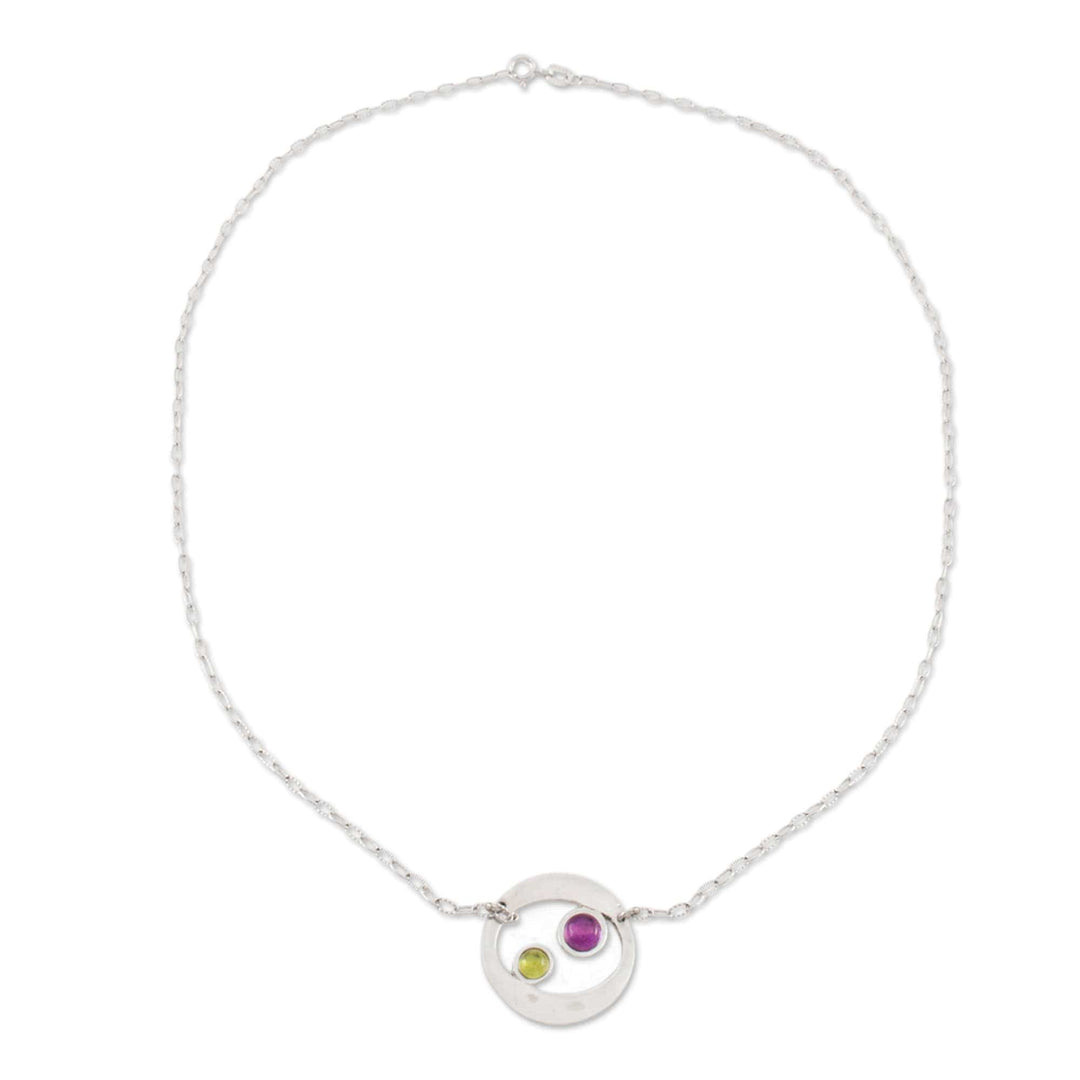 Amethyst and Peridot Pendant Necklace - Drifters
$64.80
Guest price
$51.84
Member price
Overview
Description
Gemstones drift in a sterling bubble, bringing color to a necklace by Mariana Llanes. The Mexican designer selects cool peridot and lilac amethyst to distinguish her handcrafted silver design.

.925 Sterling silver
Sterling silver, amethyst and peridot
5 g
48 cm L
1 mm W
Pendant(s): 2 cm L x 2 cm W x 0.3 cm D
THE STORY BEHIND THE PRODUCT
Artisan Organization: Mariana Llanes
Country: Mexico
Latest Update

"I learned this beautiful art of jewelry when I was a girl. I began to write, and it became very clear that I wanted to have a creative life, as I sought other modes of expressing myself that would allow me to work with my hands and feel the materials.

"Jewelry has allowed me to express myself freely, and I feel very fortunate to be able to show and share my work with you. I believe that my designs have substance and integrity. They are the fruit of my experience, as much in art as in life, paired with my ideas and my desire to share a creative and beautiful world with others.

"I have been working with you since the beginning of 2011, which has allowed me to have more confidence in what I want to share with each piece of jewelry. The magic of allowing myself to live in nature inspires me constantly. It moves me to know that some of my pieces are being brought to other countries. My feelings are materialized in solid and tangible pieces.

"My greatest inspiration will always be coexisting with people of different cultures — this is where my inspiration is born. It is a pleasure knowing that enthusiasm, the preservation of techniques, and the constant changes and care of each design are alive."

Original Artisan Story

"My designs reflect my search for beauty, harmony with the body and a sense of movement. Sometimes I like to explore a certain theme, others I just shape figures filled with expressive power.

"I spent most of my childhood in a small village in a beautiful valley not far from Mexico City, where I was born. Being surrounded by nature, I had the opportunity to grow up in great freedom and in contact with all things natural, which is why my husband and I decided to stay here permanently. I'm dedicated to my jewelry, he's dedicated to his painting.

"As a child, I also enjoyed writing and I knew, even at that age, that I wanted to lead a life where I could explore my creativity and find different means through which I could express myself and feel materials in my hands.

"After high school I had the opportunity to travel and stay at a meditation center. When it was time to return and continue my studies, I kept having dreams of becoming a jeweler and I could even see the designs I had created. I decided to follow my dream and have loved it from the very first moment I began working with metal, gems, and fire.

"The first thing I made was a pair of hoop earrings which I gave to my mother, and it makes me feel very happy and proud to see her still wearing them!

"I learned the silversmith's craft in Mexico City, in the workshop of renowned Mexican designer Francisco Ortiz. Here I had the opportunity to meet, and learn from, other famous designers. I continued my training with different courses in several workshops both in Mexico City and in San Miguel Allende. I also went to India to train with a family of silversmiths and, in 2004, I began an online course with the Gemological Institute of America.

"I have also pursued my writing by taking several courses on narrative and drama at renowned cultural centers and institutes in Mexico, including a course with the highly revered Hugo Argüelles.

"I held my first jewelry exhibition in 1999 and I've done one every year ever since. In 2008, two of my designs were selected for the contest '21st Century Silver,' which were also included in an exhibition at Mexico City's Franz Meyer Museum.

"I enjoy traveling and meeting people of different cultures – that's how I can feel inspiration growing within me. I enjoy playing with symmetrical and asymmetrical designs, as well as combining geometric figures with organic shapes, contrasting textures, colors, and, in some cases, metals.

"Mexico is a diverse and prolific country in its artistic expression, so I feel very fortunate to share my designs with all of you. I believe my creations have substance and integrity because they are the fruit of my experience in art as much as in life. They reflect my ideas and my desire to share a world that is creative and beautiful.""