Our GlobeIn Premium Wrap
Hand wrapped with love, each gift comes with its own regional pattern, giving your gifts an international flair.
Premium gift wrap – $5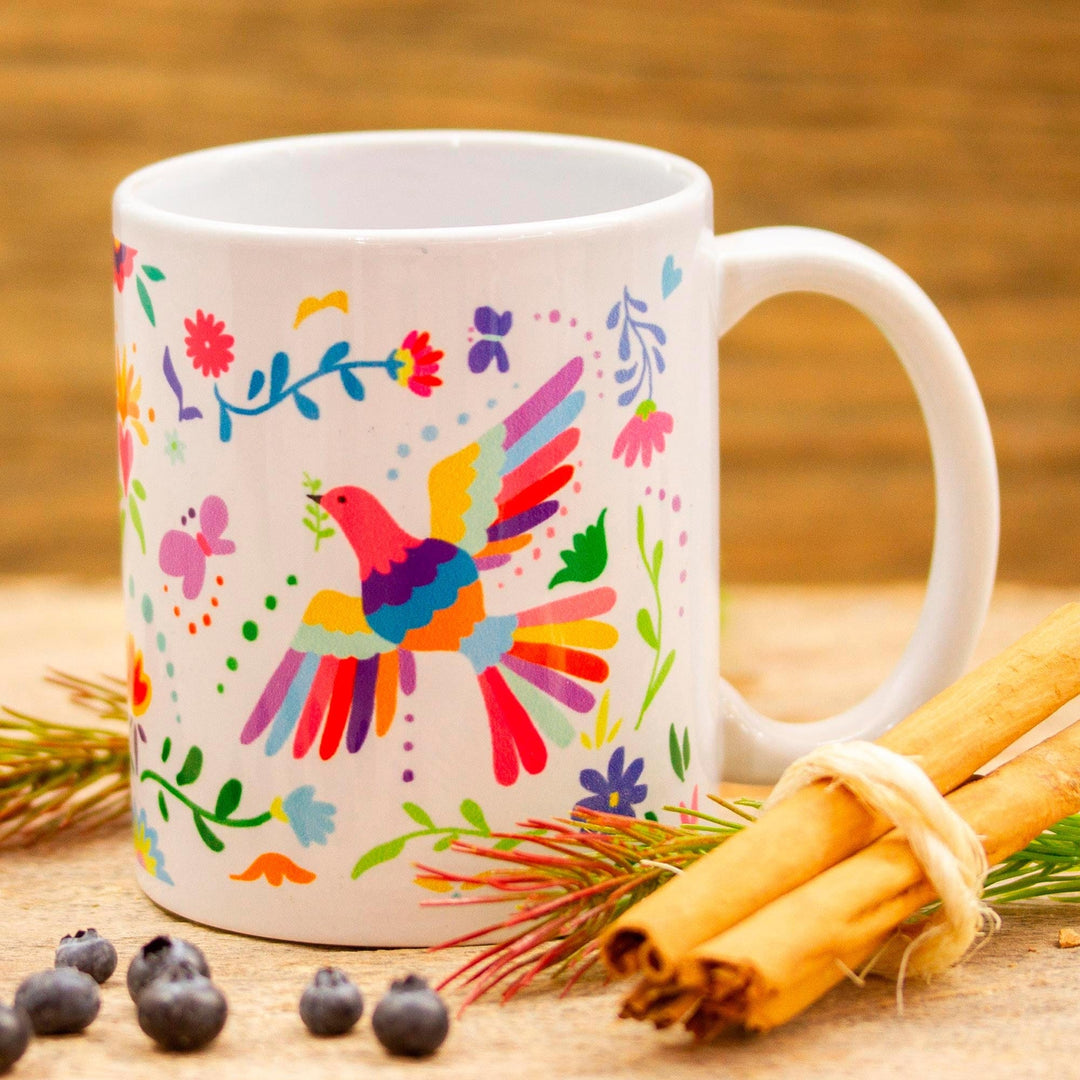 Artisan Crafted Otomi Birds and Flowers Motif Ceramic Mug - Otomi Morning
$30.00
$0.00
Overview
Description
For this cheerful ceramic mug, Alejandra Aceves depicts the colorful motifs of the Otomi tenango — textiles covered with hand-embroidery covering animal and plant designs drawn freehand on the fabric. Even cave art in the sierra of Mexico's Hidalgo state can come to life on these tenangos. The skilled artisans use a closed herringbone stitch now known as the Otomi stitch that shows only the outline of the patterns on the reverse side.
Ceramic
0.71 lbs
3.9 inches H x 3.1 inches Diam.
10 oz.
THE STORY BEHIND THE PRODUCT
Artisan Organization: Alejandra Aceves
Country: Mexico
Latest Update

"I'm infinitely thankful for the support you have offered me. It's wonderful to know that your work is appreciated.

"I've been fortunate to have had a great education where I developed a love for design. Sometimes, life gives you challenges in order to make you a stronger person.

"I was given the opportunity to believe in myself and participate in courses that have allowed me to believe in my ability even more. I was diagnosed with fibromyalgia, which has prevented me from being consistent in my projects. This has been one of the circumstances that taught me to fight and take care of myself and to get up every morning with motivation.

"Some of my greatest medicines are swimming and bicycle riding, and I even challenged myself to complete a triathlon. It was a lot of fun and I did it!

"When I was seven, my Aunt Margarita taught me to craft bracelets in the Huichol style, but she passed away in 2014. In her memory, I put 17 links in each necklace, representing October 17, her birthday.

"When it comes to my work, I always exalt the name of my country, which serves as one of my greatest inspirations. I have completed eight design competitions and participated in Guadalajara Design Week, the Presea Ocelote 2014, and I even won an award in Argentina in 2019.

"I adore you! The fact that people in any part of the world can buy my jewelry is the most incredible to me. I love you for respecting artisans.

Original Artisan Story

"Hola! I'm Alejandra Aceves. When I was two years old, I began to paint in watercolors because everyone in my father's family was an artist. I loved to paint with him. Then, when I was seven, my mother taught me to sew and I loved it. At first I made little purses that I sold to my neighbors. Then I began to make outfits for ice skating. I skated, but the costumes weren't sold here so I made my own. My friends were fascinated with my designs, so I made them for my friends, too.

"At the same time, I was studying business administration as well as art, which had always been a part of my life. In my spare time, I made all kinds of things. I started crafting jewelry just by chance. At first, I created designs only for myself. I've always liked to travel and on trips I'd buy gemstones and other objects. I also found inspiration in other countries. And this is how it all began.

"Four months later, I decided to enter a jewelry design contest and I won second prize – a trip to study jewelry making in Italy!

"I also learned a lot in Brazil. I learned different techniques like weaving and macramé, and not to be afraid to mix colors. This helped me develop a style of my own.

"You can be certain that each of my designs is crafted with love and passion."

In November of 2007, Alejandra won first and third places at the Tahitian Pearl Trophy competition for her bracelet and earrings designs, respectively. She represented Mexico in the next stage of the international competition, which featured designers from around the world.

Alejandra's designs were selected for her ability to interpret feminine fashions, lifestyles, and customer's desires in the evolving world of fashion. The Tahitian Pearl Trophy is organized by G.I.E. Perles de Tahiti, a governmental agency in charge of promoting the country's cultured pearls. The 2005-06 competition featured more than 6,000 designers from 36 countries."