Our GlobeIn Premium Wrap
Hand wrapped with love, each gift comes with its own regional pattern, giving your gifts an international flair.
Premium gift wrap – $5
Day of the Dead Curated Gift Box - Catrina
$81.00
Guest price
$64.80
Member price
Available Premium Gift Wrap
You can optionally add Premium Gift Wrap into cart.
Learn more >
Overview
Description
The complex heritage of Mexico can be seen in their Day of the Dead traditions, which are complicated blends of thought from the ancestors, the Aztec, Maya, and Spaniards, and Catholic belief. Preparing an altar by placing photographs, flowers, candles, favorite foods and drinks of the loved one is an invitation to the spirit of dead loved ones to return home to share memories, laughter and tears.

Since 1910, the Catrina name refers a well dressed woman. She is 'The Bony One,' 'The Skinny One,' and death personified. Inspired by the caricatures of lithographer Jose Guadalupe Posada, Catrina is an important personage in Mexico's November 2 Day of the Dead celebrations. She takes center stage in this colorful gift box. Catrina and her husband, El Catrin appear on a set of four decoupage coasters along with a white sugar skull. The skull theme is repeated in a hand-painted candle. A small portrait of Catrina is encased in a petite tin frame, protected by a glass pane, for wall display.
Decoupage on pinewood coasters, wax candle, cotton wick, tin wall art
0.56 lbs
Apron: 3.9 inches H x 3.7 inches W x 1.4 inches D
Candle: 3.5 inches H x 3.5 inches W x 4.3 inches D
Each: 0.1 inches H x 3.9 inches Diam.
THE STORY BEHIND THE PRODUCT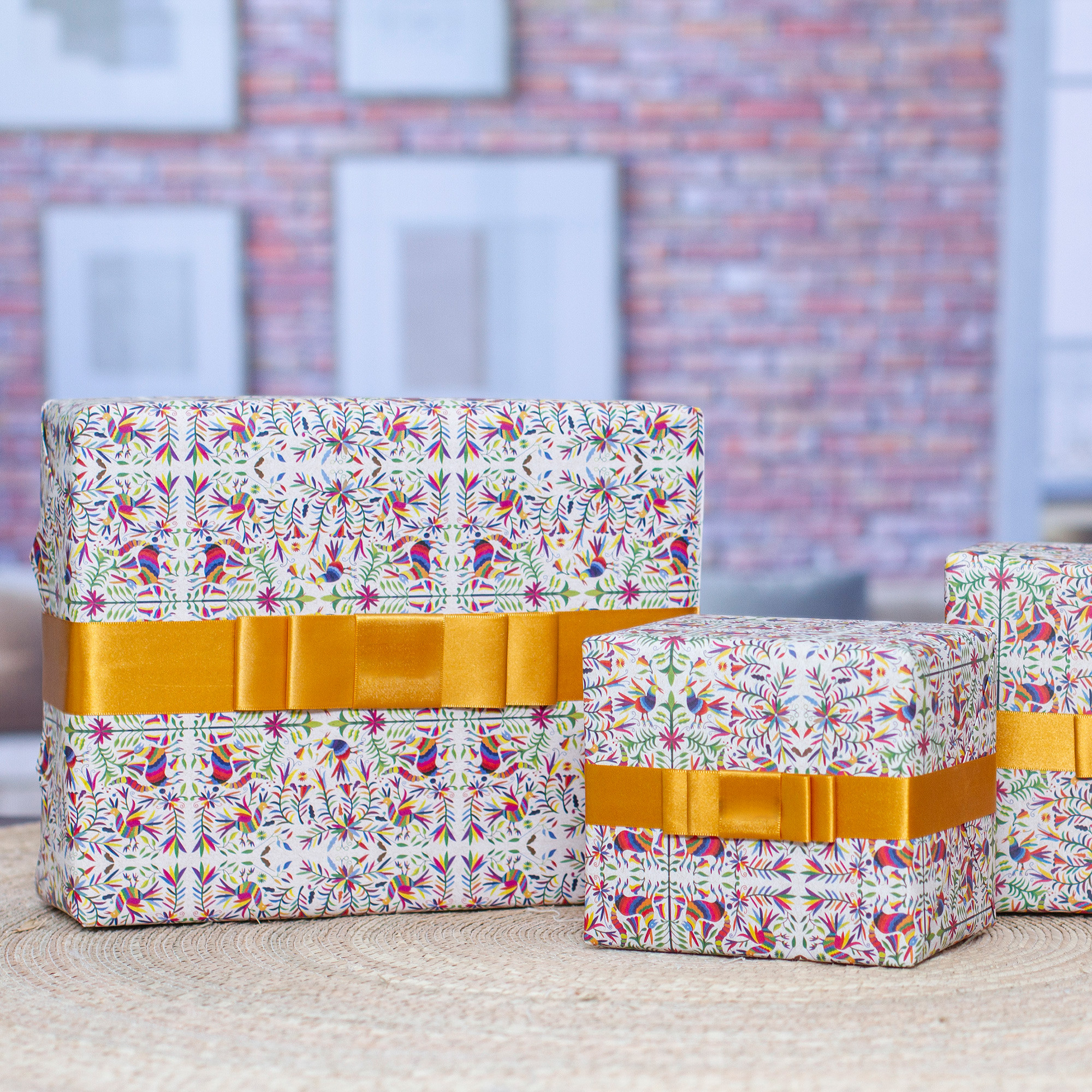 Artisan Organization: Curated Gift Sets
Country: Mexico
An exquisitely gift-wrapped package arrives on your doorstep from a far away land. There's nothing quite like the anticipation, or the thrill of unwrapping it. Inside, you discover a lovingly curated collection of handmade treasures. Carefully handcrafted by appreciative, exceptional artisans. You pause to read the hand-signed postcard within – a wistful reminder that life is an adventure… and that everything is handmade. By a real person. Not by a machine. But you know that, because you've already joined the growing Handmade Movement. Wonderfully, the connections we are creating together today resonate deeply and meaningfully across cultures and continents. We're all in this together.

Inspired by our shared passion for traditional cultures and handmade arts, our new curated gift sets are truly exceptional. We're now bringing the best of the world together into beautiful boxed sets, and delivering them directly to you and to your gift recipients. Such unforgettable gifts! These regionally-themed gift sets showcase a harmonious combination of artistic techniques and traditions, resulting in impressive, meaningful gifts for every occasion. We're certain you'll find a box tailor-made for every recipient on your list!"