Our GlobeIn Premium Wrap
Hand wrapped with love, each gift comes with its own regional pattern, giving your gifts an international flair.
Premium gift wrap – $5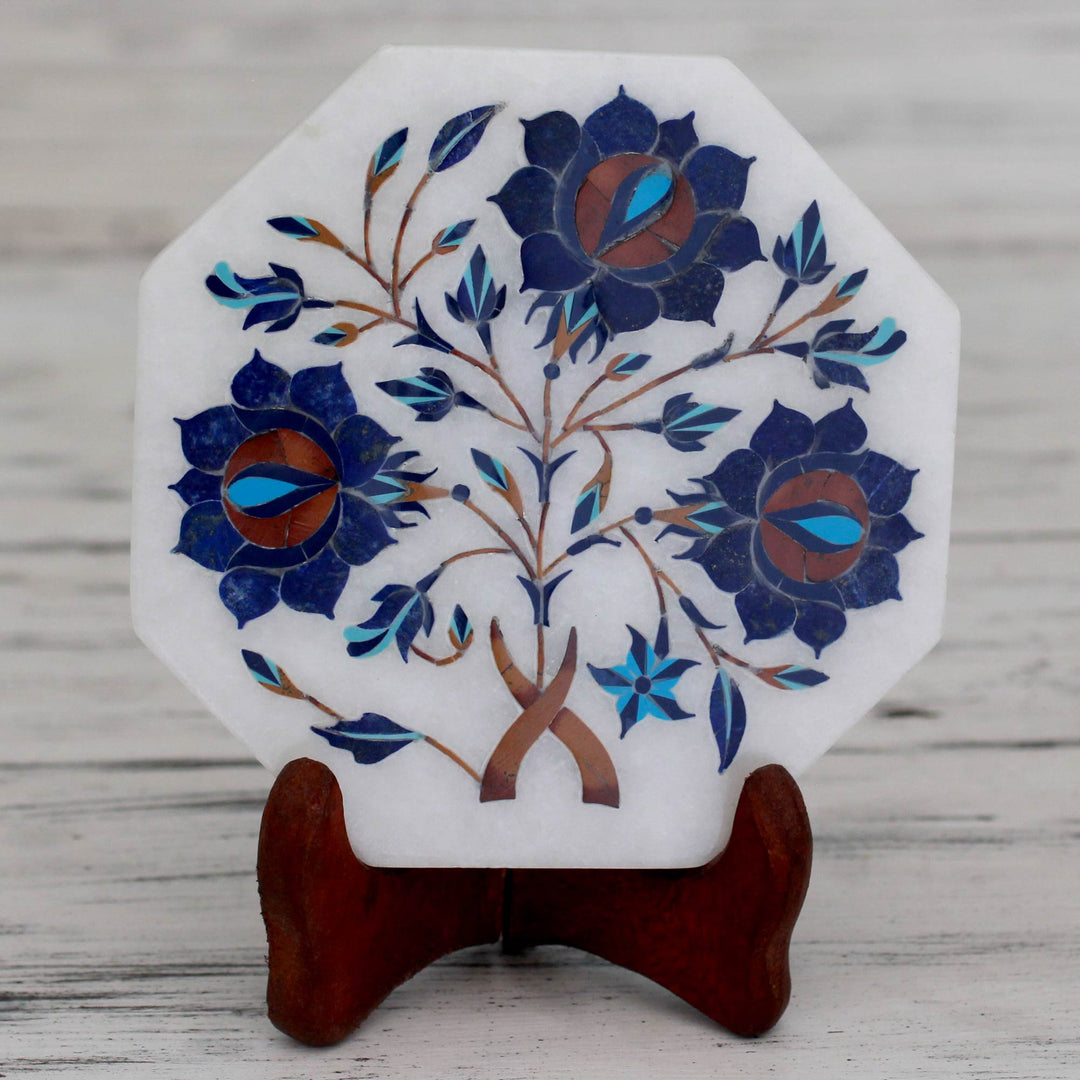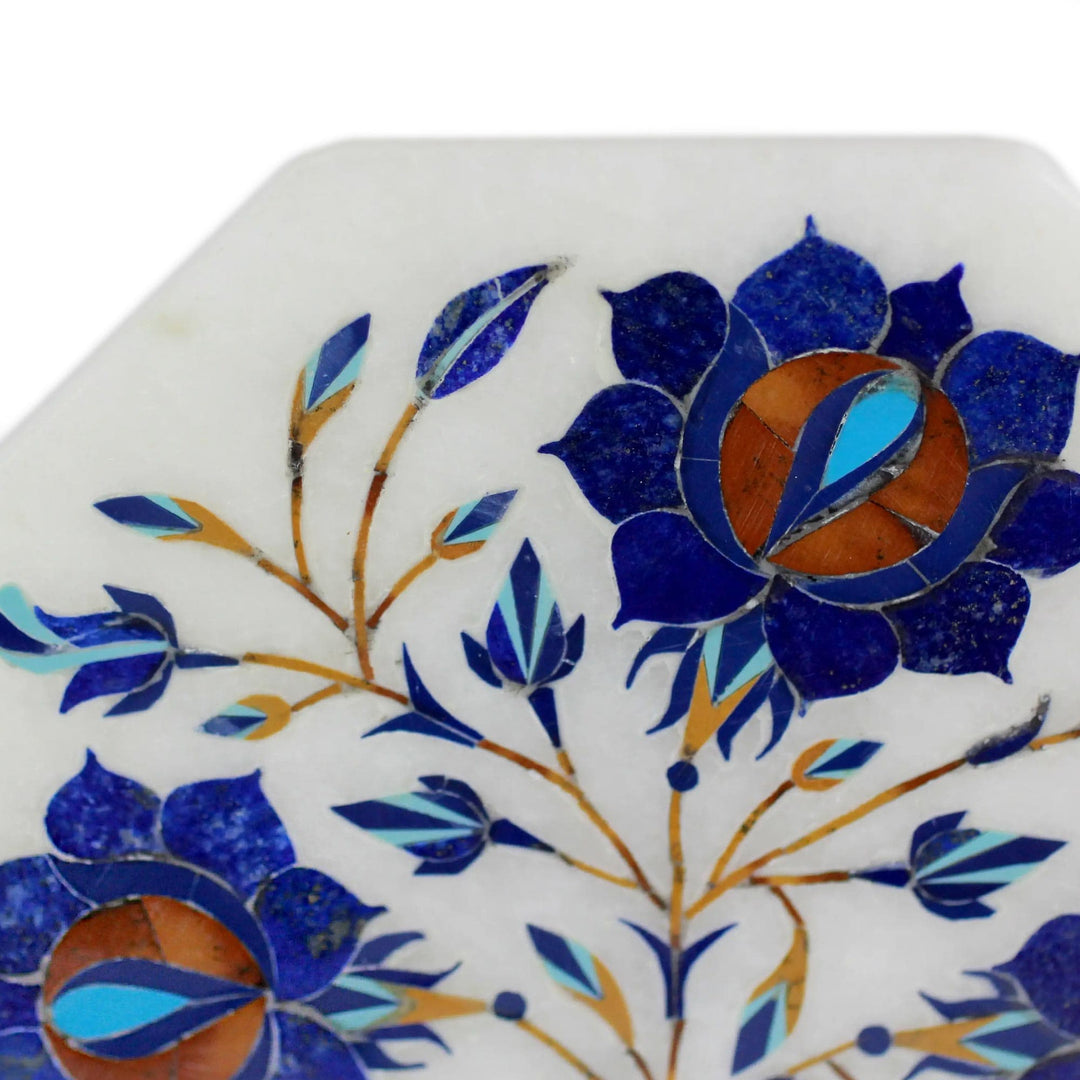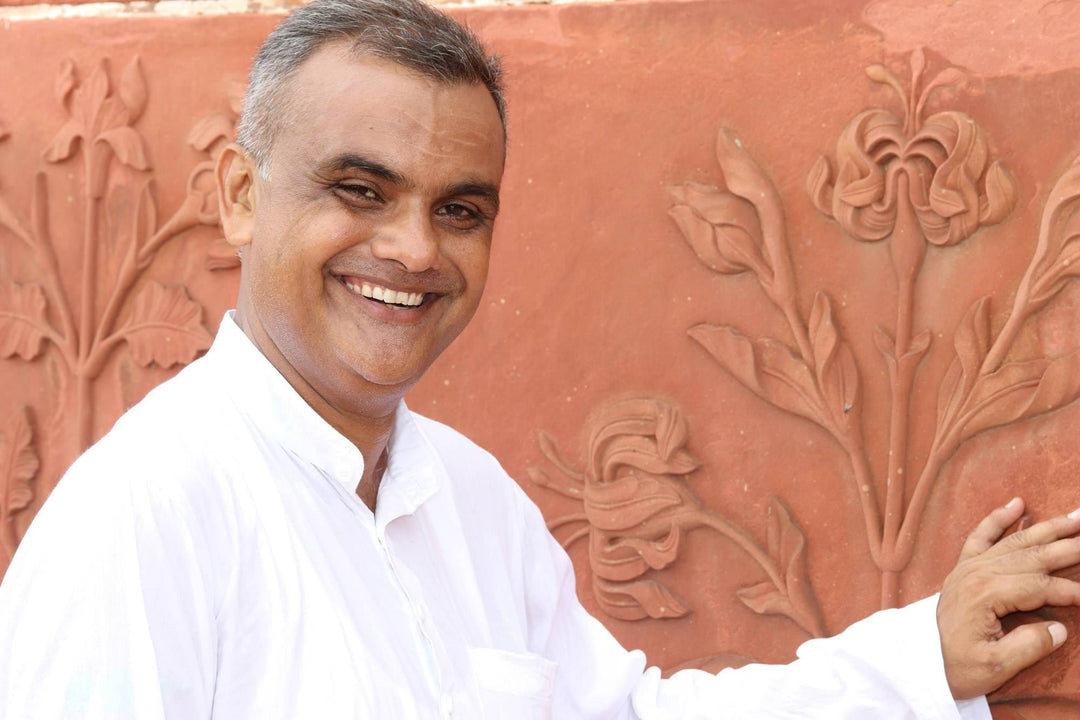 Blue Floral Motif Marble Inlay Decorative Plate from India - Lapis Enigma
$59.00
Guest price
$47.20
Member price
Available Premium Gift Wrap
You can optionally add Premium Gift Wrap into cart.
Learn more >
Overview
Description
Enigmatic in their beauty, a trio of lapis blue flowers are displayed in this octagonal decorative plate from India. In the style of decorations found at the famous Taj Mahal, the floral motifs are diligently carved by hand into marble, inlaid with more than 240 pieces of colorful resin. Imran designs this beautiful plate, displayed on a mango wood stand.

Please note that once carved, marble may progressively change its original hue from pristine white to ivory.
Marble, resin inlay, mango wood stand
0.32 lbs
Plate: 5 inches H x 5 inches W x 0.3 inches D
Stand/base: 3.9 inches H x 3.5 inches W x 2 inches D
THE STORY BEHIND THE PRODUCT
Artisan Organization: Imran
Country: India
Latest Update

"I began collaborating with you as an artisan in 2006. You have given me a way to exhibit my talent to the whole world and earn a stable income.

"Although marble stonework is my family heritage, when I joined you, I was in the initial stage of my work. I had started out on my own with a small place where I used to work with two artisans to help me. Back then, I sold my work mostly to tourists who visited Agra, as I didn't have a showroom. But now I have my own outlet and a big workshop with ten assistants working with me, some of whom I taught myself. My brothers also work with me now and help me in my work. In the beginning, I suffered a lot of difficulties. I had very little money and no place where I could expand my work. But slowly, my income has increased and I have been able to expand my work too.

"In 2005, I received the Hastshilp Award organized by the Development Commissioner for handicrafts, and won the best Uttar Pradesh State Prize in 2007 for my marble work.

"I applied and managed to procure a tour guide license in 2006 so that I could show the heritage of Uttar Pradesh, the Taj Mahal, to the admirers of this craft and whoever is interested in seeing the majesty of the place.

"After working with you, my life has become more stable and I'm able to live comfortably. Along with coasters, vases and boxes, I have also started making new items like trays and marble plates that I've added to my collection of stonework.

"Thank you for appreciating and purchasing my designs. When you choose them, you not only help me but also many other people who are making these beautiful creations with their hard work and skill. I hope to keep the art alive and transmit my skill to the next generation."

Original Artisan Story

"Hello, I am Imran Qureshi, and I'm from the mesmerizing city of Agra. My family has a very long association with the art of marble and other handicrafts. And the fact that Agra hosts one of the wonders of world – the Taj Mahal – has been an inspiration for many. While other family members were involved in marble art, my father was into carpet weaving and received a national award for his work. With my family crafting so many different types of work, I had the opportunity to choose my field of interest and I opted for marble crafting.

"When I was 16, I joined my family in marble art. I learned the work from my uncle. Since childhood, I had this inclination toward the stone's exquisiteness and beauty. I grew up seeing my uncles create wonderful and innovative designs. There are lots of talented people in Agra, and most of them work to keep alive the traditional art of the city. Our designs include coasters, vases and boxes featuring fine gemstone inlay, which has been admired by many.

"A lot of tourists come to Agra and we sell mostly to them. It is a great opportunity for us to be associated with you. I hope our designs will be appreciated far and wide.""