Our GlobeIn Premium Wrap
Hand wrapped with love, each gift comes with its own regional pattern, giving your gifts an international flair.
Premium gift wrap – $5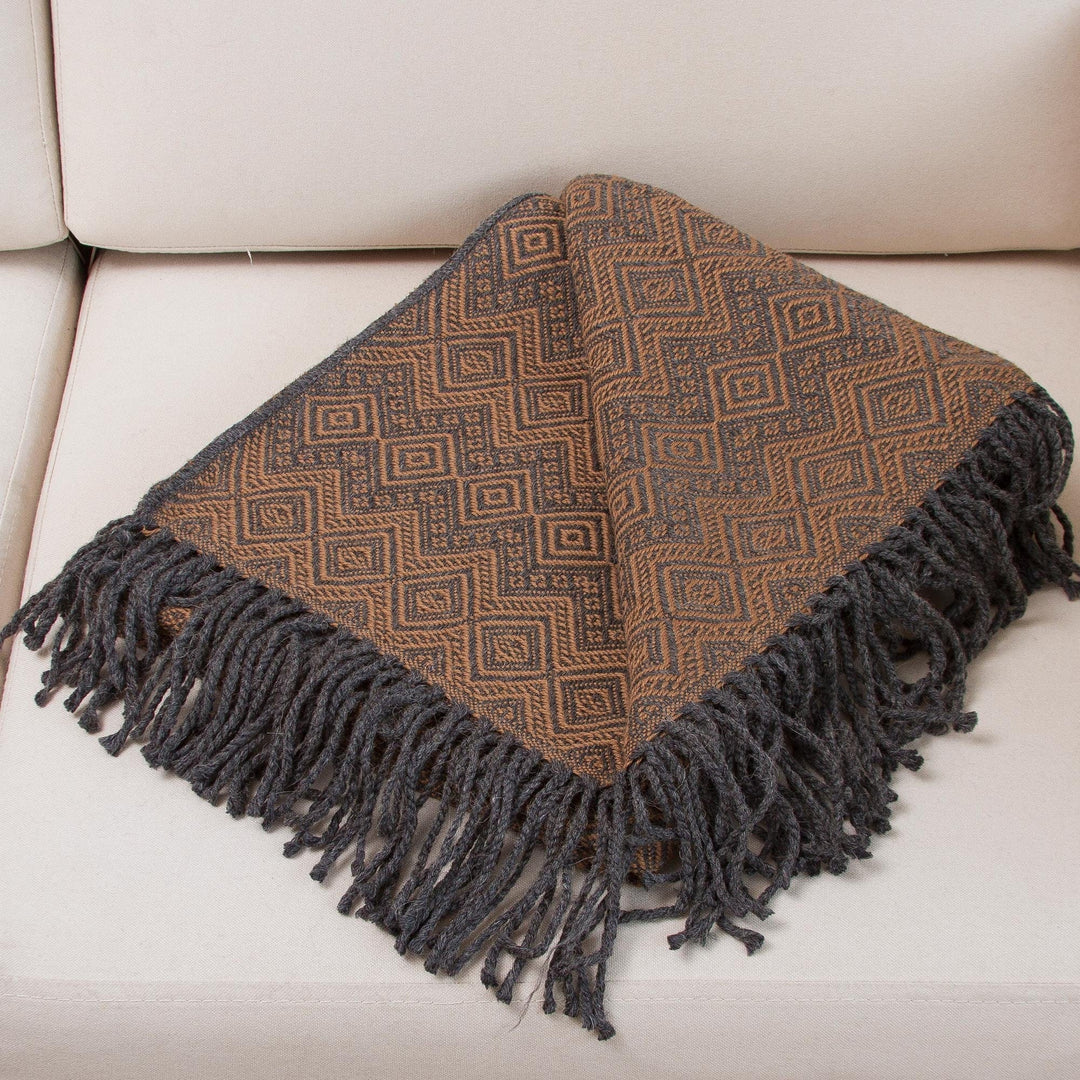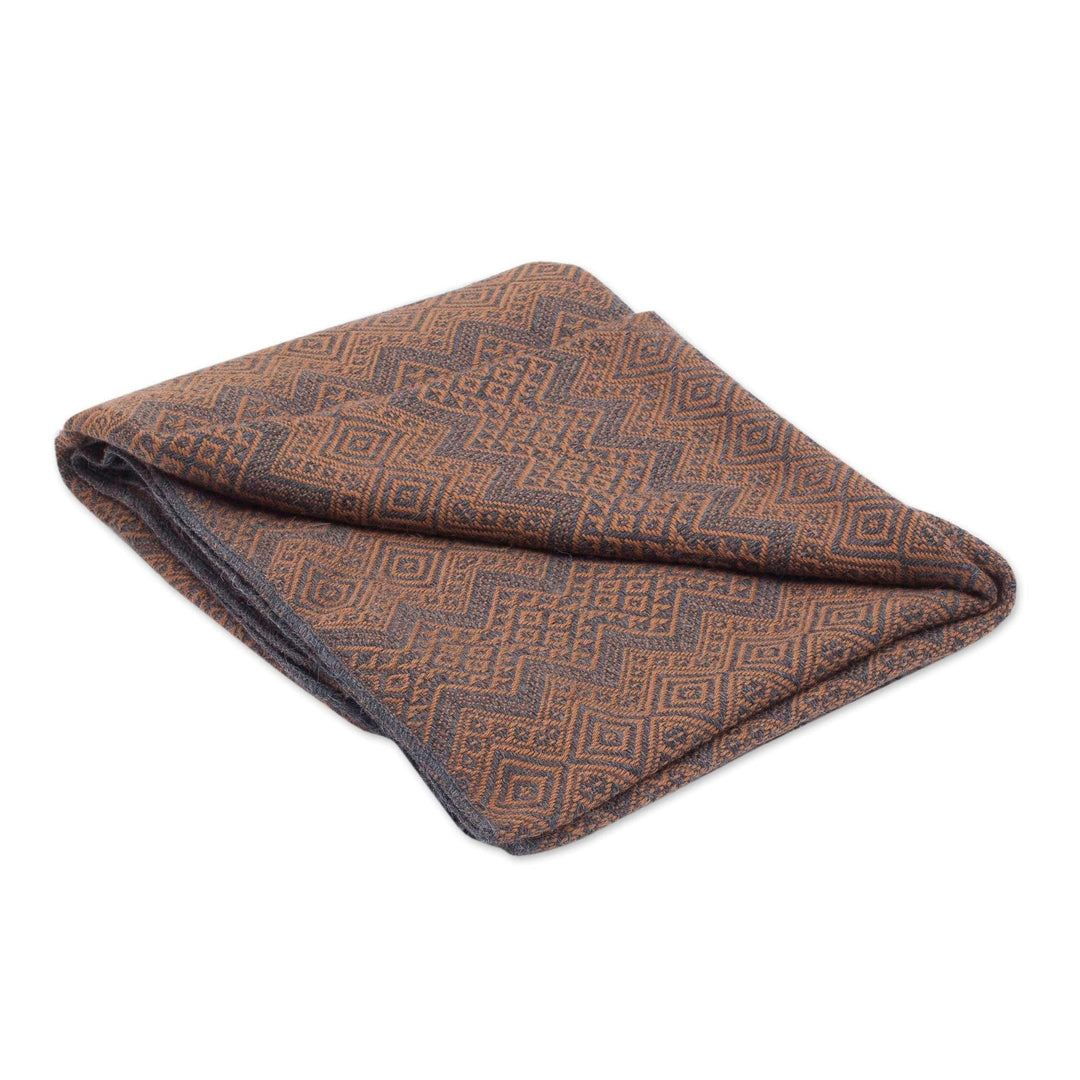 Aplaca Acrylic Bland Throw Blanket - Diamond Embrace
$68.00
Guest price
$54.40
Member price
Overview
Description
Beautiful diamond motifs in colors of spice and slate distinguish this warm, durable throw blanket, presented by Nestor Yana of Peru. The comfortable throw is woven from an acrylic and alpaca blend, finished with fringes on the ends.
90% acrylic, 10% alpaca
0.72 lbs
63 inches L x 50 inches W
Fringe: 3.7 inches L
THE STORY BEHIND THE PRODUCT
Artisan Organization: Nestor Yana
Country: Peru
"Greetings from the highest regions of the Peruvian Andes, where the air is fresh and pure, where the spring water helps preserve nature and keep alive our precious fauna such as the alpaca, which has been part of Quechua and Aymara families throughout our history. This is a history that is preserved through artisan hands such as my family's, and by you, too, who help us show our history to the world. And by you, our clients and friends because, together, we will continue to write this history. You can be sure that each piece of alpaca apparel is made with the loving care of many Peruvians, from shepherds to weavers.

"On behalf of many Andean families including mine, I would like to send greetings filled with the same warmth of our alpaca wool, as well as our eternal gratitude! Many thanks, and best wishes for joy and prosperity!"

Nestor Yana was born on August 29, 1964. He hails from the Puno region, situated in the Peruvian highlands, which are renowned for quality alpaca and sheep wool. He has been dedicated to the textile arts for more than 25 years – it has been a family trade for generations.

Yana and his siblings learned the different weaving and knitting techniques from their parents. When he first began to weave, he worked on rustic looms, which he and other family members built themselves. Together they sold their wares at local markets until eventually they were able to acquire modern knitting machines, which in turn allowed them to develop newer designs.

Yana designs and creates a variety of apparel styles, including cloaks, sweaters and ponchos. Each one showcases the unique attributes of alpaca wool. Alpacas are members of the camelid family. They are about the size of a pony and live up to 20 years. They make good and loyal pets. In fact, many owners say they are just like man's best friend. They are gentle and enjoy hugging. Alpacas are sometimes used as therapy animals in schools and hospitals. They do not bite but will occasionally spit when annoyed, though rarely at people. Pregnant alpacas are easily annoyed with the male, and will spit at him to go away.

Because of their value, alpacas are carefully protected and they are shorn only once a year – each alpaca can produce enough fleece for up to eight sweaters.

The Incas gave the alpaca an important place in society and religion, and alpaca fiber was so highly treasured it was reserved for Inca royalty.

Although alpaca wool is produced in less quantity per year than cashmere, it is considered a luxury fiber because it is as soft as cashmere and has the luster of silk. It is as durable as wool, and the fleece is extraordinarily light and warm – in fact, it is reported that alpaca wool is five times warmer than sheep's wool! That's because the fiber is semi-hollow and curly, thus creating microscopic air pockets that are ideal for insulation. Any garment made with alpaca fibers is certain to preserve its appearance over time.

The fashion industry considers alpaca wool to be one of the most exclusive of fibers. It is so versatile it is used in the creation of tweeds and fine gabardines. Alpaca fiber is naturally water-resistant and wrinkles less than wool, which makes it ideal for travel. Compared to wool, alpaca fibers are stronger, resilient and of good elasticity."