Our GlobeIn Premium Wrap
Hand wrapped with love, each gift comes with its own regional pattern, giving your gifts an international flair.
Premium gift wrap – $5
Adorn Gift Set
$97.00
Guest price
$77.60
Member price
Overview
Description
Woven by hand on a traditional Zapotec loom in Oaxaca, this elegant Mexican rebozo reveals intricate blue geometric motifs on an ivory background. The generous cotton shawl flaunts long, lush fringe, knotted by hand. A circular ceramic box for keepsakes depicts a dazzling sunflower on the lid. The petite container is a modern design influenced by Mexico's majolica pottery from Guanajuato. Palm leaves find a new use in a handwoven basket and lid. Finally, a black cord necklace hosts a papier mache pendant depicting a vibrant heart with wings. This gift set vibrates with vivid color.
100% cotton, ceramic, pine leaves, papier mache, polyester cord
0.64 kg
196 cm L x 62 cm W
Fringe: 15 cm L
Box: 6 cm L x 8 cm W
Necklace length: 41 cm min L - x 64 cm max L
Necklace width: 0.3 cm W
Pendant(s): 3.5 cm H x 4.5 cm W x 0.1 cm D
Basket: 17 cm H x 15 cm Diam.
THE STORY BEHIND THE PRODUCT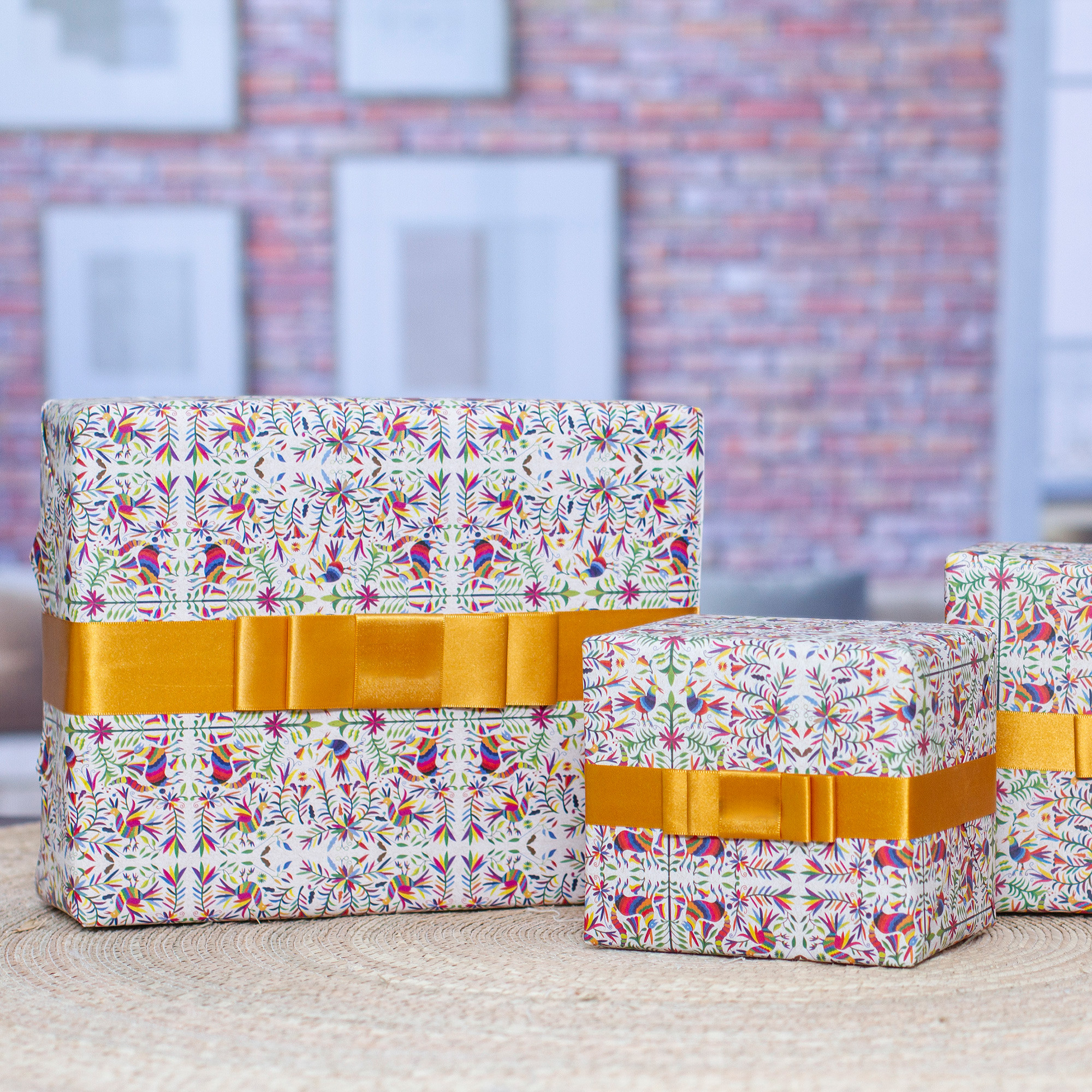 Artisan Organization: Curated Gift Sets
Country: Mexico
An exquisitely gift-wrapped package arrives on your doorstep from a far away land. There's nothing quite like the anticipation, or the thrill of unwrapping it. Inside, you discover a lovingly curated collection of handmade treasures. Carefully handcrafted by appreciative, exceptional artisans. You pause to read the hand-signed postcard within – a wistful reminder that life is an adventure… and that everything is handmade. By a real person. Not by a machine. But you know that, because you've already joined the growing Handmade Movement. Wonderfully, the connections we are creating together today resonate deeply and meaningfully across cultures and continents. We're all in this together.

Inspired by our shared passion for traditional cultures and handmade arts, our new curated gift sets are truly exceptional. We're now bringing the best of the world together into beautiful boxed sets, and delivering them directly to you and to your gift recipients. Such unforgettable gifts! These regionally-themed gift sets showcase a harmonious combination of artistic techniques and traditions, resulting in impressive, meaningful gifts for every occasion. We're certain you'll find a box tailor-made for every recipient on your list!"