Our GlobeIn Premium Wrap
Hand wrapped with love, each gift comes with its own regional pattern, giving your gifts an international flair.
Premium gift wrap – $5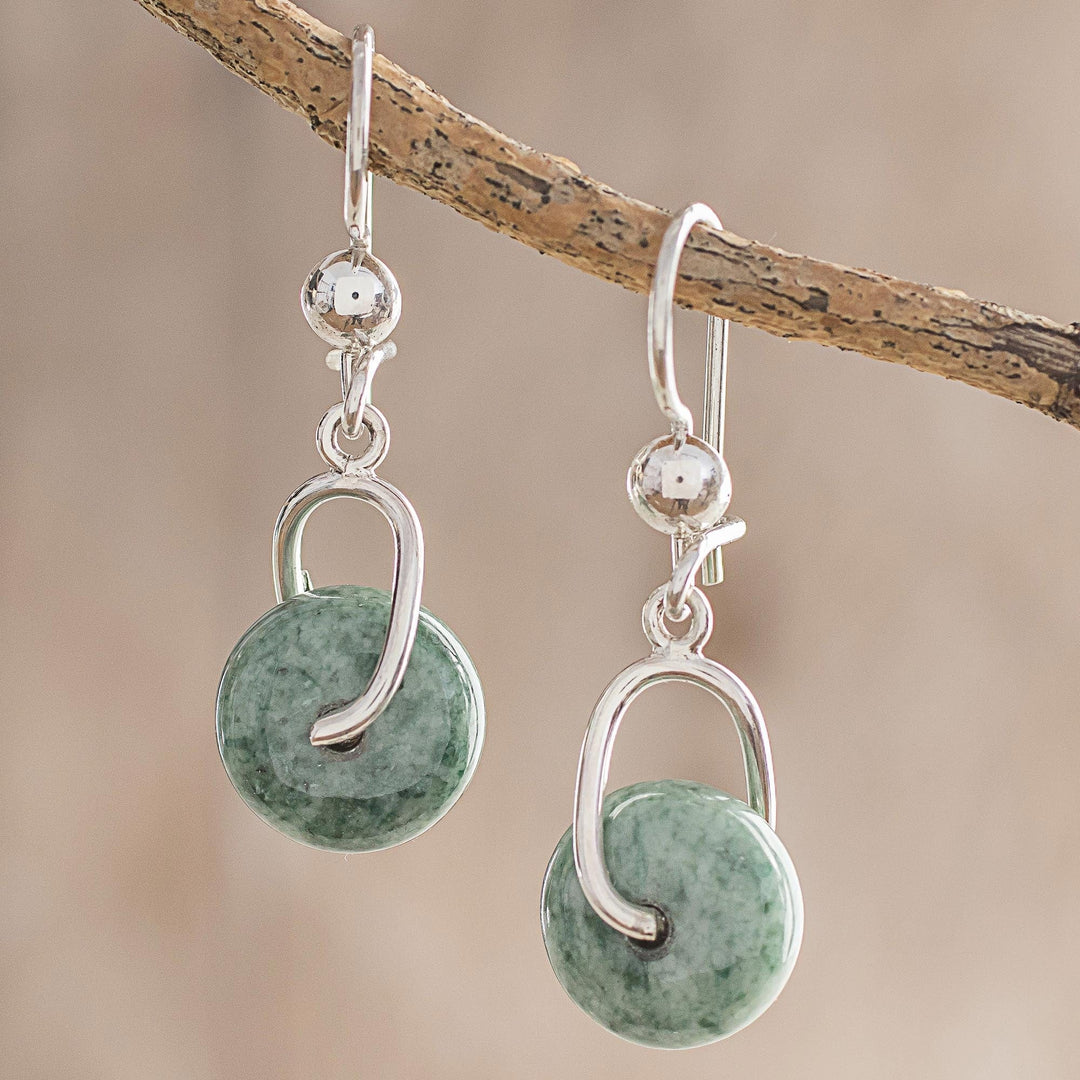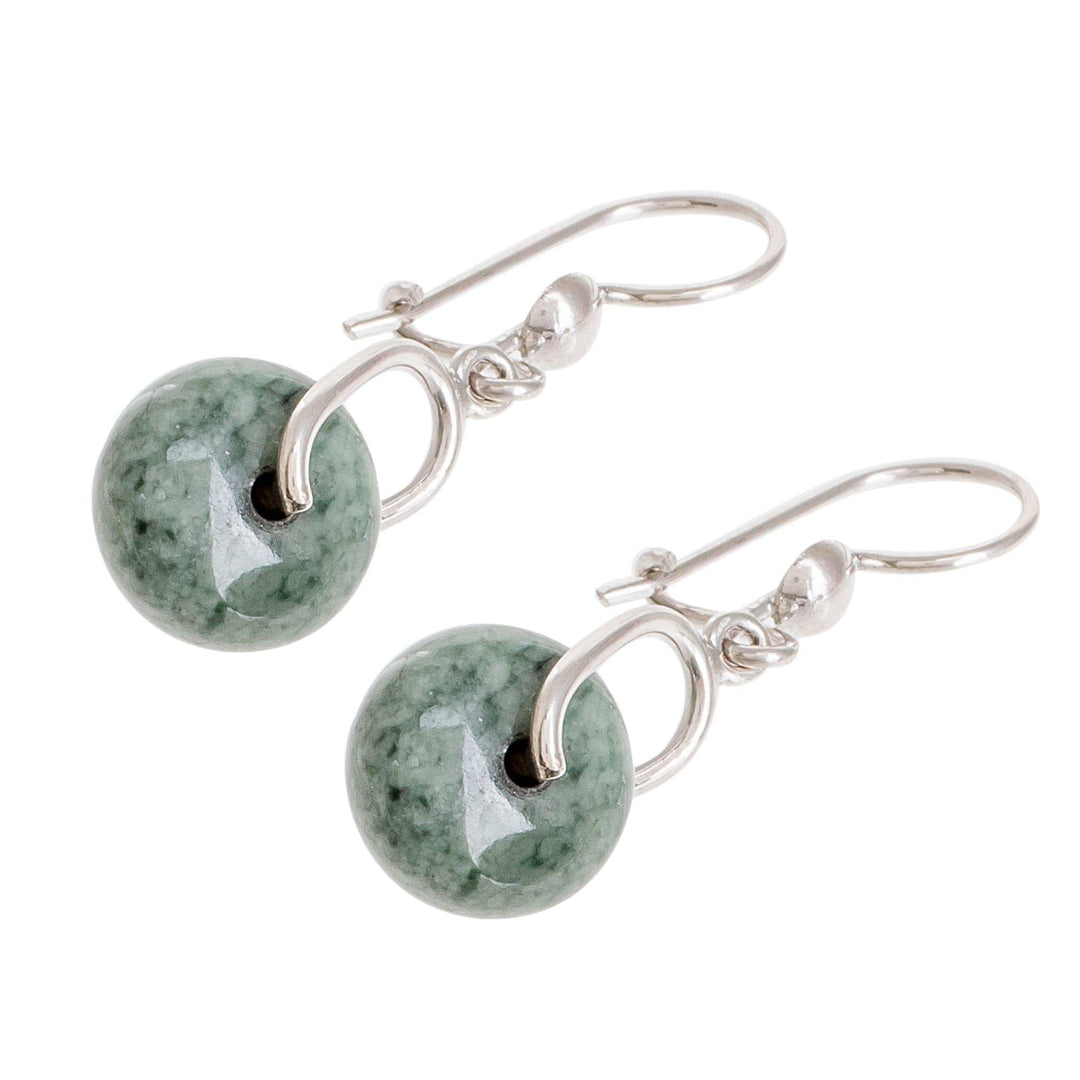 Circular Light Green Jade Dangle Earrings from Guatemala - Light Green Wheel of Fortune
$73.00
Guest price
$58.40
Member price
Available Premium Gift Wrap
You can optionally add Premium Gift Wrap into cart.
Learn more >
Overview
Description
Working with a passion for preserving the handicraft traditions of her country, Zandra Lorena Sajbin of Guatemala designs and crafts an intriguing pair of dangle earrings. Two wheels are crafted of natural jade with light green hues. Sterling silver runs through the center of each round stone.
925 sterling silver, jade
0.10 oz
1.5 inches L x 0.3 inches W x 0.5 inches D
THE STORY BEHIND THE PRODUCT
Artisan Organization: Zandra Lorena Sajbin
Country: Central America
"My son's pediatrician and a priest from San Lucas Toliman, whom I regard as my father, are my guardian angels. I'm a happy person who loves to chat, I'm honest and responsible, and I'm also a little bit strict. I was born in 1983 in Quiché but I grew up in an orphanage in San Lucas Toliman.

"At first, my husband and I had a hard time selling our silver jewelry, as we didn't have any clients. One day, when we didn't have money for food, I went to see our son's pediatrician and he bought a few pieces. He was our first client.

"The first thing I ever made on my own was a pair of silver earrings. My husband taught me so I could help him. I remember watching him work on his own 'til all hours of the night and I really wanted to learn how to craft jewelry. Finally the day came when he asked me to help him and that's how I started. As I saw the jewelry I had been crafting and saw how beautiful it was I felt happy — everyone kept saying how much they liked what I had made!

"It's not been easy getting established as an artisan because silver is very expensive and it's difficult to purchase. But when you set your own mind to it, you can achieve your goals. My greatest dream is to be able to buy a piece of land and build my own house so that I can leave it to my two sons.

"I like to work with jade because it is a sacred stone for us Maya people. Jade used to be worn as an amulet, and those who wore the most jade pieces were considered to be the most important people in the community. Rescuing the value of our traditions is always important.

"Silver has become a way of life for my family and, little by little, I'm teaching my sons so that when they grow up they may choose to continue what their mom and dad began for them.

"Guatemala offers many opportunities for those of us who like to work hard and now my husband and I have a workshop where we also sell our designs. I strongly believe that everything is possible if one has dreams, and that nothing is impossible if you work hard to achieve your goals.

"I think the people who support traditional handcrafts can tell that ours is jewelry that satisfies the highest demands.

"I lead a happy and tranquil life together with my loved ones. I enjoy going to fairs and expos to exhibit my jewelry. We have been recognized several times by Guatemala's Tourism Institute where they give special mention to the high quality of our designs, as well as for our hard work.

"I believe our jewelry reflects all the love that we pour into what we do. Our shoppers are mostly tourists who like our designs because we use the best jade and the best quality silver we can find.

"Offering everyone my art is another dream come true. I am honored to see people beyond Guatemala's borders wear my designs. Each one of them bears my best wishes.""