Our GlobeIn Premium Wrap
Hand wrapped with love, each gift comes with its own regional pattern, giving your gifts an international flair.
Premium gift wrap – $5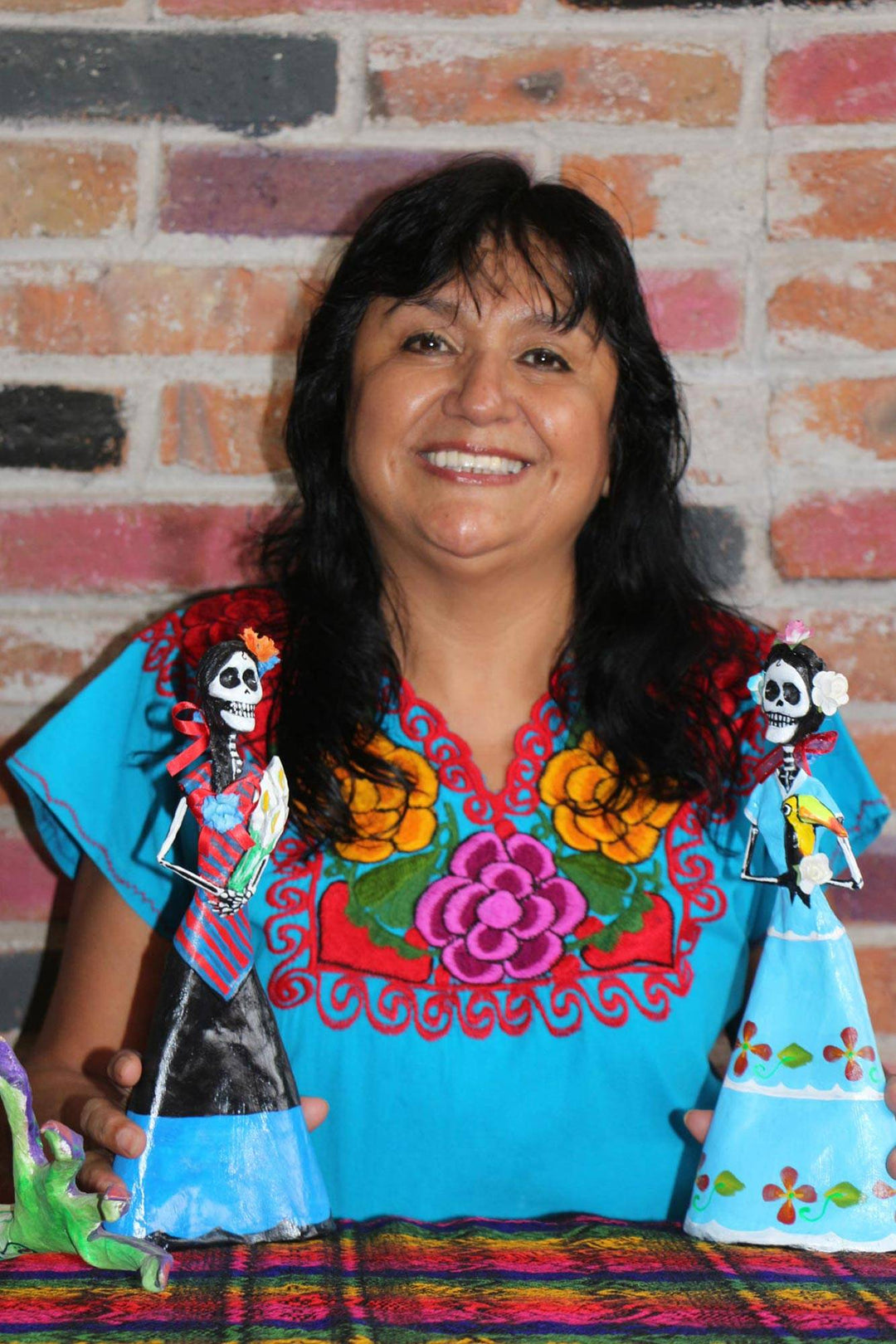 Papier Mache Catrina Statuette - Catrina with Apron
$80.00
Guest price
$64.00
Member price
Overview
Description
Marina Lozano of Mexico works in papier mache to create this delightful catrina statuette. The skeletal sculpture is elegantly attired, with flowers and a ribbon in her hair and an apron tied around her waist. The artisan designs the figurine after the original 'La Calavera Catrina', a zinc etching created by the artist José Guadalupe Posada in Mexico around 1910. Posada created the character, a female skeleton with an elegant hat, as a satirical portrait of Mexican natives who aspired to European style and denied their own heritage. The catrina has since become an emblem of Mexico's Day of the Dead celebration and a popular folk art subject.
Papier mache
0.12 kg
33 cm H x 15 cm W x 17 cm D
THE STORY BEHIND THE PRODUCT
Artisan Organization: Marina Lozano
Country: Mexico
"I an artisan in papier mache. I was born in Mexico City, a privileged place for arts and crafts.

"I became excited about this art when I was 16 years old and studying at the National Polytechnic Institute. It was a point at which I left school due to my low grades in mathematics. It was my father who, as a result of seeing me plunged into depression, encouraged me to study something that would restore my creativity and increase my hope and security. He took me to workshops on sculpture, painting, the human figure, wood carving and, of course, paper arts.

"It was precisely in that resurgence stage that I learned how important human creativity is, and I fell in love with the flexibility of paper. It is a blank canvas to create whatever comes to your mind. I studied papier mache with Alberto Riano in Mexico City and in Guanajuato I learned the traditional techniques and design styles with Clisterio Sanjuanico.

"I think that what was most challenging was being open to the techniques of these great masters. And I also learned to keep abreast of new artistic trends. Now that I teach, I understand the openness that you must have for each person. I started making piñatas, a very well-known technique in Mexico. This is how my designs became more popular, and I began to create more specific sculptures.

"My inspiration comes sporadically — one work leads to another. Every detail motivates me to continue creating. And more than anything, seeing designs from different sources makes ideas come out of nowhere.

"The digital age brings more challenges, each one different and with its own complexity. I remember that, 20 years ago, they conducted a census in my town of Cortazar, Guanajuato. There were 50 artisans specializing in papier mache. Today, there are only two left. But I know there are endless opportunities in this field, each with its own learning and teachings.""